Pusha T Track "Exodus 23:1" Ignites G.O.O.D. Music/YMCMB Beef
G.O.O.D. Music. YMCMB. What do they have in common? Well, they're both high profile hip-hop collectives, their names are both comprised of acronyms, and, as of a few days ago, they've got beef with each other.
The catalyst for the antagonism between the two camps is "Exodus 23:1," a new track released by rapper Pusha T. "Exodus" is reportedly a taste of Pusha's upcoming solo record set for release later this year. The track is certainly a diss track – the song opens up with talk of beef "best served like steak/well done" – though it fails to call out any potential target(s) by name. Whoever the object of Pusha's anger might be, Lil Wayne took offense. The YMCMB rapper voiced his opinion about Pusha T in a tweet shortly after the song appeared online.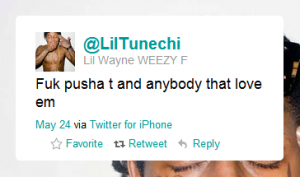 Since Wayne's tweet, speculation on the meaning of the track has run rampant. SOHH highlights the curious history of antagonism between Wayne, Pusha and various members of YMCMB. Verse interpretation site Rap Genius provides an entertaining if questionable fan-generated explanation of "Exodus 23:1." Finally, outside of the aforementioned tweet, there have been no comments on the song from either camp. G.O.O.D. boss Kanye West is in Cannes with Kim Kardashian and neither Birdman nor Drake have been reached for comment.
Check out "Exodus 23:1" below and see if you can figure out who pissed off Pusha T.