Paris Hilton And Other Acts Trying Their Hand At Dance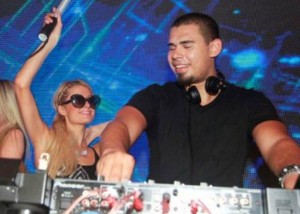 Heiress and socialite Paris Hilton might be coming to a rave near you. And chances are she'll be in the DJ booth. It's no surprise that Hilton is a fan of dance music seeing as she's been a fixture of the club circuit for the past few years. She also has a relationship, platonic or otherwise, with Afrojack, a well-known commodity as a DJ and producer. So it can't be too surprising when she says, "I have a huge passion for house music." Hilton has even flirted with a career in music before, going back to her 2006 debut Paris, an album that some people actually bought.
But still. This is a marketing ploy from a master self-promoter, lest anyone be mistaken that this signals some kind of earnest artistic intent from Hilton to further ingratiate herself into the music scene that she loves. Funny thing is, the last time Hilton made an album, it was of pop music, designed to slot in nicely with the rest of the Top 40 at the time of its release. Now, she's going after the EDM market.
The rise of EDM in America has been far less chronicled than the arrival of EDM. Hilton's move to make a dance record is a signal of the next phase as electronic music settles into itself as a genre with mainstream appeal and following.
That's not to say that other bands haven't tried to break into the dance world. We can't use pop artists as an example, so no Black Eyed Peas or Chris Brown since these acts need to keep their sound current to stay relevant. So, let's turn to the rock world. Skrillex, arguably the hottest star in EDM at the moment, is known to have gotten his start in music fronting the post-hardcore band From First To Last. Skrillex was also one of the collaborators on Korn's last album, the genre-bending The Path of Totality. That path was already a road well taken, with British heavy rock acts Enter Shikari and Asking Alexandria melding electronic sonics to metal modes.
But Skrillex isn't the only person making these kind of connections. We already talked about Diplo, a man the New York Times described as a, "negotiator and collaborator." Diplo, real name Thomas Wesley Pentz, has touched on nearly every genre in music. 2012 saw his first major foray into the world of rock music, producing some of No Doubt's upcoming comeback album. Diplo (and production collaborator Switch) also left their sonic watermark all over the recent debut of British singer-songwriter Alex Clare. While Clare does not have a large following stateside, it's likely that many TV viewers have heard his work before.
Clare's "Too Close," featured in the Internet Explorer commercial above, is a funny kind of synthesis. Lightly plucked chords with a light R&B flavor are married to soulful vocals in the verses. Synth enters and signals the upcoming chorus, which is club ready with the requisite wobbles. A song like this wouldn't be able make it to rock or the Billboard Hot 100 charts in the U.S. a year ago. But today, things are different.
But Hilton's move into the house music world is a step further then some rocker's dalliances into EDM. After all, Hilton isn't really a credible artist. She's not even a tastemaker. She's a human barometer. Hilton will make her club ready debut, replete with her dead-eyed vocals and topical synths. When this din sounds, it will double as an alarm. It will be a call to order, a signal that EDM will have finally lost all of the trappings of being an "underground" genre. As goes Hilton, so goes America.
Get a taste of Hilton's upcoming contribution to the grand pantheon of EDM, "Drunk Text," below. Choice lyric? "No one is safe in the Twittersphere anymore."