Punk Isn't Dead. It's Just… Different.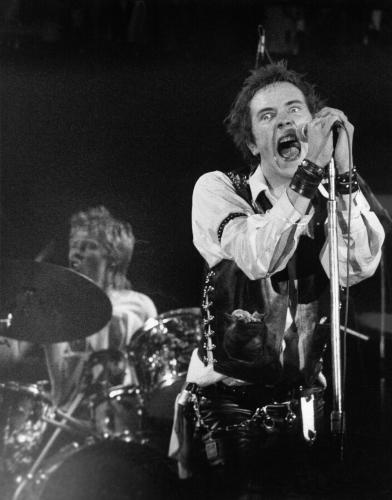 Once upon a time, people used to listen to this thing they called ˜punk rock', and they would put safety pins in their noses, get funny haircuts, and advocate anarchy in the streets. Nihilistic rebels and apathetic outcasts lurked in the back alleys and dark basements of a few select cities for the better part of the ˜70s, all the while building an empire before anyone even knew it was happening. However, after a brief detour through new wave, post-punk alterations, this sudden uprise seemed to fade away as rapidly as it began. But where did punk rock go? Where are the mohawks, the plaid pants, and the wayward misfits of the golden years we all used to know and love? Have they been lost into the dark abyss of what used to be, never to be seen again?
Yes. Well, mostly, anyway. However tragic it may be that the traditional Punks and Skunks are no longer bombarding the music scene with stripped-down, chugging guitar breaks and monotone shouting, the punk rock nucleus still lives on. Despite what the old-school anarchy stalwarts may claim, punk is by no means dead. It's alive and kicking, with more teenage angst bursting at the seams than ever before. It just looks a little different and, of course, depends on how you choose see it.
So where is it, you ask? It's blowing up all over the mainstream rock scene. Bands like Four Year Strong, A Day To Remember, and Rise Against, who have all made appearances on the Billboard charts, are leading the way for the contemporary punk movement. Granted, these groups aren't ˜punk' in the traditional sense, but they're the product of years of development and evolution as punk rock has absorbed different trends and influences over the years.
In the early '90s, punk rock revival leaders such as Nirvana, Green Day, Bad Religion, and several others set the stage for how punk music would change over the next 20 years, ultimately branching off into the alternative/pop-punk/metalcore norm that it is today. Taking influences from metal, pop, and 'alternative' artists, bands like these started to stretch the parameters of what could be called ˜punk.' Then, following this original influence, new groups continued changing the standards of the industry. Acts like Blink-182, Sum-41, New Found Glory, and Thrice again redefined punk for the new generation of teenage misfits while, of course, upholding the themes of adolescent turmoil, alienation, and rebellion.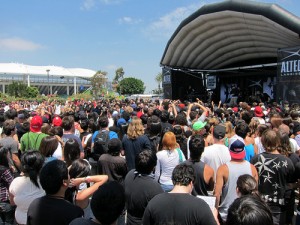 But with so much information always cranking into the constantly growing punk rock machine, it's hard to keep track of exactly what's happening, and more importantly, where it's all headed. For a while there wasn't any established representation of what ˜punk' really was on any given day, until Kevin Lyman came onto the scene and started this thing called ˜The Warped Tour' (maybe you've heard of it). Beginning in 1994, punk rockers all over the country finally had a place to come together and celebrate the joy of rebellion via an artistic release of built up energy and previously stifled self-expression. Whether it was the incorporation of skateboarding and other extreme sports, or the idea of teens driving hundreds of miles in their stepmoms' Astro Vans during the hottest, sweatiest months of the year to see and play live music, something about the Warped Tour seemed to always draw in the various punks of the period.
Though there were several regulars frequenting the tour over the years including Bad Religion, Pennywise, and NOFX, the overall musical presence always mirrored the seasonal progression of punk rock evolution. The opening years consisted mostly of post-revival pop-punk and ska, showcasing bands like Blink-182, Sublime, The Bouncing Souls, and Goldfinger. As Warped burst into the Aughts, the genre began to change. Incorporating more aspects of metal and emocore, bands like From Autumn To Ashes, Good Charlotte, and The Used began making names for themselves. This was the first major sign on the Warped Tour that punk started to digress from the anti-conformist formula and began purposely playing for a pre-established image in the industry. These trends evolved as the 2005-07 tours grew heavier and poppier, bringing on acts like Atreyu, Underoath, Fall Out Boy, and Norma Jean. However, fears that punk was morphing into some type of mainstream-metallic, popcore hybrid were suppressed when appearances from acts like Anti-Flag, The Street Dogs, and Joan Jet and the Blackhearts made their mark back on the tour. As for 2012, the metalcore/pop-punk trend is running rampant with expected performances from Of Mice And Men, Four Year Strong, and Every Time I Die, while still maintaining the tour's variety with a little bit of older punk styles peppered in – again seeing Anti-Flag and Bad Religion on the bill.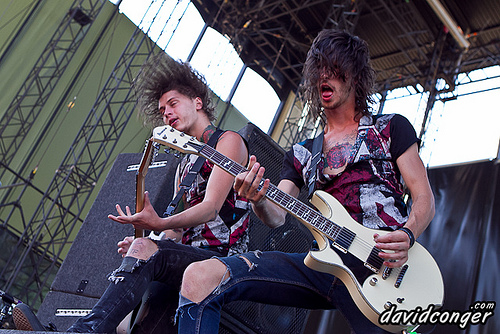 But if Warped is such a good medium for representing punk development, what will we see in the coming years? More and more artists are beginning to display influence from the swelling presence of EDM in the industry, so be on the lookout for groups following the footsteps of Breath Carolina, Asking Alexandria, and Blood On The Dance Floor. It's hard to believe any of the old-schoolers will embrace this digital craze, but it's clear that dubstep and electronica are inching their way into the pop-punk/metalcore scene. Alas, classic punks need not fear. As popular music genre lines continue to cross and fade, you can expect a new punk rock style to break free from the mainstream magnet, challenging the commercial industry template as it always has. How this will happen and where it will come from is anyone's guess, but you can bet that the Warped Tour will make sure to showcase what's going on.
The 2012 Vans Warped Tour kicked off on Saturday, June 16 in Salt Lake City. For a full list of bands and dates check out VansWarpedTour.com, and be sure to check out the OurStage.com stage while you're there.