Songs Of The Revolution: Mieka Pauley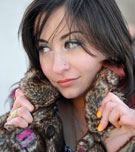 It's time now for the next installment of Songs of The Revolution, our new series in which we throw free downloads around like we're made of free downloads. Simply put, we catch some of our favorite artists as they come to town and record an exclusive session with them. As a nice little bonus, you can watch and listen to video recordings of the sessions before you download the tracks.
Now, if you've been following OurStage lately, you know that we're big fans of New York-based artist Mieka Pauley. So much so that we just invited her to perform at our showcase for this year's New Music Seminar and to join our newly-established Artist Advisory Board. And just to show that we can't get enough Mieka, we grabbed her recently on her way to Cambridge's Lizard Lounge, where she was having a release party for her new record, The Science Of Making Choices, and asked her to perform a few songs for us. Two of those songs, Marked Man and Wreck, are from the new record, while We're All Gonna Die is a favorite from a 2009 EP. Check out these fantastic exclusive performances to see what all the buzz is about.