Pierce The Veil Talk Warped Tour, 'Collide With The Sky,' And Hot Sauce

In today's crowded post-hardcore scene, Pierce The Veil stand out as a band who aren't afraid to take risks, try new things, and, most importantly, stay true to themselves. With a sound that combines aggressive guitars, dynamic vocals and the occasional hint of Latin flavor, PTV are sitting comfortably at the top of their genre. The San Diego, California natives released their third album, Collide With The Sky, on July 17th, and have been one of the most anticipated acts to see live on Warped Tour this summer. We caught up with frontman/guitarist Vic Fuentes and bassist Jaime Preciado at the Mansfield, MA stop to chat about the new record, collaborating with Kellin Quinn and why they included hot sauce in their pre-order bundles!
OS: What's been your most memorable experience with a fan so far on the tour?
VF: I guess the most memorable experience would be when they hug me with a ton of paint all over them, and then it stays, so I remember it all day¦
JP: Yeah, it stays. All day. I have had that experience.
VF: Kids just paint their whole bodies…
JP: It's, like, 100 degrees outside and the paint just ruins clothing. Or when girls wear a ton of makeup and you're wearing a shirt, and then next day you see your shirt, and it's got some girl's face imprint on your shoulder.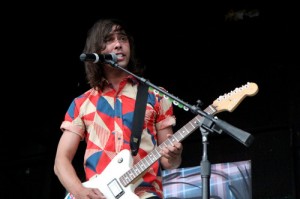 OS: What other bands have you most enjoyed seeing at Warped so far this year?
JP: So many bands. I miss The Used. Those guys were awesome. I like watching Bayside as much as I possibly can, because they're one of the tightest bands on Warped. They're so, so good. And today I actually saw Memphis May Fire for the first time. We're good friends with those guys. They put on a good show. It's really awesome.
OS: Your set at Warped is a lot shorter than a lot of the shows you play. How did you decide what songs were going to make the set list? Does that change from date to date?
VF: Yeah, it was hard for this tour, because now we have three records, and we've never had that feeling, having so many songs. But it's fun though, it's cool, we just decided we've got to at least play one new song, so we're playing the new one that we just put out.
JP: I think we just took it from experience, you know. We always used to go to shows all the time, and go to Warped Tour and we saw bands¦ I remember talking about it, like¦Oh, they only play this many songs from the new record.
OS: You guys just put out your new album, Collide With The Sky, are you happy with how it's been received so far?
VF: Very happy, thanks. It's going awesome, dude. So many of the shows have been amazing, CDs are selling really well. We'll just go out there to the line and kids will just run up.
JP: The response has been great, so we couldn't be happier.
OS: Sleeping With Sirens vocalist Kellin Quinn does guest vocals on King For A Day, a collaboration that was actually initiated through Twitter. Can you tell us more about that?
VF: Yeah, I mean, we didn't know Kellin or Sleeping With Sirens before our fans brought us together, and then after that, it was just phone calls and getting to know each other. Ever since then, we've become super good friends and, you know, we get to sing every day together, and I think it was a really cool collaboration. We love collaborating with our friends. And when we have that mutual respect for people, as a musician, like a friend, it all works out.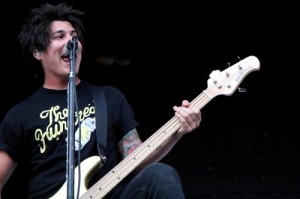 OS: Collide With The Sky preorders came with some really unique bonus gifts for fans. How did you decide to give away hot sauce and rosaries?
VF: [laughs] Well, we're big hot sauce fans, and we've heard of other people doing cool stuff¦like we heard that Bring Me The Horizon gave out barbecue sauce, so we were like, Well, why can't we do hot sauce?
JP: We're into doing stuff that fans will remember. That's what really makes a deluxe edition more than just a CD and a T-shirt, you know, give them something that they really want, that's actually something deluxe. Oh, you got one of their fingers sawed off? That's amazing! You know, get crazy¦
VF: I think a lot of it just comes from our Hispanic backgrounds. We just like doing that stuff.
JP: And it's so good! So good.
VF: It is actually really good.
JP: It's legitimately our favorite hot sauce, and not just because our name is on it, but because it's really good.
OS: Did you guys make it yourselves?
VF: Oh yeah.
JP: Yeah, in the back lounge of the bus. Mixing in red solo cups [laughs].
OS: For the most part, this new album is really aggressive and fast-paced. Was there a conscious decision to move in this direction, or was that just the music that flowed out naturally when you started writing?
VF: It just came out naturally, yeah. We thought we were going to write a poppy record and that didn't happen at all [laughs]. But yeah, it was just going into the studio, taking some risks, doing some stuff that we thought was really fun and interesting, and that's just what happened.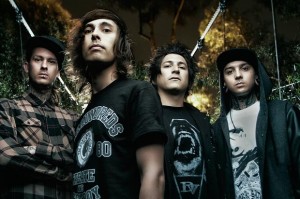 JP: Yeah, going into the record we were just like, Let's just have fun with it and do whatever feels natural. We weren't put up against the wall, like, We've got to make a poppy record, or We've got to make a heavy record. We just kind of thought, Let's just do whatever feels right, and that's the kind of record that came out. It's got a little bit of everything. Kind of like our hot sauce [laughs].
OS: You guys have a really unique sound and blend of styles on all your albums, so it's hard to imagine who might be inspiring you. What artists would you say have influenced you the most this time around?
VF: I think we've gained a lot of inspiration from the bands we've toured with on this last record. We're always around such crazy shows.
JP: A good example is probably letlive.
VF: Yeah, letlive., A Day To Remember, all our friend bands, you know? We can take a little bit of inspiration from little things that we see, like, Man, that part goes so crazy every time they play it.
JP: We look at it from a live aspect too, because a lot of people only hear the CD and never really get to see the band live. We're touring with these bands all the time, so we see them live, and see what [fans react to] live, so having that advantage and being with all our friends. Our friends are fucking good at what they do, so it's awesome.
OS: What are your plans for life after Warped Tour?
JP: I'm gonna be a chef.
VF: Nice. More hot sauce? [laughs] We're kind of banking on the fact that our hot sauce will take off and we won't have to play music anymore.
JP: [laughs] Yeah, that'd be amazing. You'll see Tabasco and Pierce The Veil hot sauce in the supermarket. Just paying all our bills when we're old men, sitting on porches, chillin'.
Check out the lyric video for "King For A Day" below and purchase Collide With The Sky on iTunes here.