Exclusive Q and A: Ballyhoo! Plan To Bring Back '90s Ska Punk

Take a look back at the original Warped Tour lineup from 1995 and you'll see bands like No Doubt, Sublime, and Supernova. With the festival's rapid expansion and desire to include more diverse artists, today's lineup is a far cry from the original punk-centric focus of the tour. Luckily, Ballyhoo! frontman Howi Spangler has a plan to bring back the nostalgic sounds of '90s ska punk with the band's new material. The Aberdeen, Md. four-piece just recently completed the entire run of the Vans Warped Tour and are already back on tour until the end of September.
We had the chance to chat with Howi about life on Warped Tour, sharing the stage with reggae legends, and what the band hopes to accomplish with their next record.
OS: You've had a busy summer already! Tell us about the performances you've done so far.
HS: It has been busy! We started the [Warped ]Tour in Salt Lake City, and we're doing the whole thing. Every day's been awesome, the kids have been really great. We're getting a lot of new listeners that come up every day, so that's awesome. We have a guy in a sombrero that's out there selling CDs in the morning to the line, turning new heads. We hooked up this thing called the "Ghetto Blaster," it's basically our handtruck and we have a speaker, a generator and a mixer, and our set time on it, and it just blasts our songs. So he takes that out in the morning and it just puts it right in their face, like, "This is Ballyhoo! Listen up!"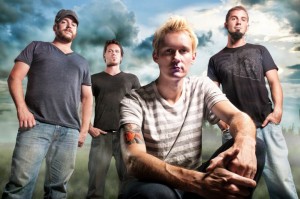 OS: What has been your favorite stop/state on Warped so far?
HS: Chicago was awesome, Chicago was really good. That's the first one that comes to mind. We had a really great crowd. San Francisco was amazing as well, we had a really good time there. We had five or six hundred people out there. Boston was really great today, too!
OS: What other bands have you most enjoyed seeing at Warped Tour?
HS: Motionless in White, those guys are sick. Just heavy screaming, heavy guitars, they paint themselves black and white…the crowd was nuts, it was really cool to see that. New Found Glory's killing it, Yellowcard's killing it every day. Tonight Alive, We Are The In Crowd, A Loss For Words…there's just so many good bands.
OS: If you could build your own Warped Tour superstar lineup, what are some bands you'd want to see?
HS: I think I'd have to go back to the '90s. NOFX, Bad Religion, Pennywise, Suicide Machines, Reel Big Fish, Green Day, Goldfinger, I'd love to see like, No Doubt on Warped Tour. All those really great '90s punk rock/ska bands, and then maybe an older band like The Specials or something.
OS: That sounds fun! You should totally make your own tour.
HS: I really should. I would never want to be a promoter though.
OS: You wouldn't want to be Kevin Lyman?
HS: I would not want to be Kevin Lyman. I mean, that guy's got so much to deal with every day, but he handles it, he knows what he's doing. And we definitely thank him for putting us on!
OS: You've shared the stage with the biggest names in the reggae genre, like Matisyahu and 311. What other bands would you like to play with with someday?
HS: I would love to play with Green Day, Foo Fighters, No Doubt. [Opening for] those bands would really be like, we made it. Just to do tours with them would be amazing, because those are all bands that influenced us. We started off almost as a Green Day cover band, the first year, and then we were huge into Goldfinger, Suicide Machines, and Reel Big Fish. All those bands really helped form our sound.
OS: You guys were recently named one of 100 Bands to Watch by MTV.com. How does that feel?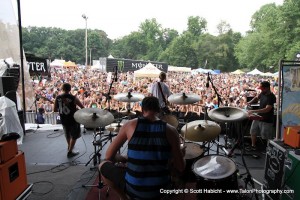 HS: That's pretty awesome! I grew up watching MTV. They don't play videos anymore, that sucks, but in the early '80s and '90s… To have that monster of a media outlet pitching us is pretty awesome.
OS: It's been almost a year since your last album. Have you started writing for the next one yet?
HS: Yeah, we're always writing. I really wanted to use Warped Tour as a writing time and I've gotten a few demos down on my iPad, just through GarageBand. We'll see what happens!
OS: It must be a great environment here, walking around and seeing all these different bands playing every day. Does that help with inspiration?
HS: Warped Tour is certainly a great spot. I just go from one end of the spectrum to the other, stylistically. There's definitely ideas coming from that. I'm not hearing a lot of the old '90s punk rock though, so I think my mind is like, "I wish I was hearing some of this stuff right now," so I've had that idea while writing songs. Let's bring it back!
OS: What are your plans for after Warped Tour?
We're going to go on another national tour with Tribal Seeds, which is a reggae band from California, it's called the Night And Day Tour. It's going to hit mostly the markets we're doing on Warped Tour and a few others. That's through all of September. We also just locked in a date with Weezer in mid-September at home.
OS: That's huge!
HS: It's going to be awesome. Can't wait for that. Then we're going to go out and do Hawaii. Really stoked for that, never been there! After that, we could do another tour before the holidays, but we'll still be writing. We'll see where that goes!
Watch the video for "Last Night" below and check out the full list of Ballyhoo! tour dates on their Facebook page.
More like this: