Riffs, Rants, And Rumors: Los Lobos Look Back On 'Kiko'

It was 1991 and Los Lobos were pissed. We had recorded [1990 album] The Neighborhood and toured that record nonstop, remembers saxophonist/keyboardist Steve Berlin. The Neighborhood took us about a year to make, for no good reason. We had a co-producer who had an agenda, and we were dealing with his agenda and not trusting ourselves. We came home from that tour pissed-off, broke, we had sort of bought this idea that we were big rock stars and that we needed to have all this rock-star stuff, like lights, and two buses, and lots of stuff that we really didn't need, or even want, for that matter.
Fortunately, the band channeled those foul feelings into something constructive " a new album. We entered the studio in kind of ticked-off mode, not having listened to our own voices, says Berlin. We only listened to what people told us we were supposed to do, and it got screwed up. So we were kind of angry and feeling like, ˜Why don't we just do it the way we want to do it, and screw everybody else? Let's just see what happens.' We took that kind of attitude into the studio, and we kind of enjoyed it. Little did they know that these casually cathartic sessions would turn into not only one of Los Lobos' most beloved albums, but one of the most memorable records of its era, 1992's Kiko.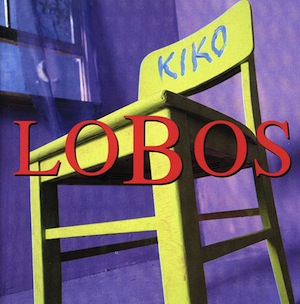 Things began humbly, Berlin remembers, We began the record ourselves, basically doing demos at a little studio in downtown L.A. that a friend of mine ran. It was on The Nickel, literally the worst street in Los Angeles pretty much " homeless families, and people as beat down as they could possibly be " and we cut about seven songs there¦ all of which went on the record, most of which went on as is, more or less. The demos became the masters.
But even though the band was off to an encouraging start, there was still a long way to go, and it all came together with the introduction of producer Mitchell Froom and engineer Tchad Blake into the mix. We had worked with Mitchell and Tchad on one song on The Neighborhood, explains Berlin, a song called ˜Keep Still,' and in some respects that's the first song on Kiko. So we met with them and the sense we got was that they were in the same place we were, that they were ready to do something dramatically different and make a record that they could actually enjoy making. I guess they had just done a record with Chrissie Hynde [The Pretenders' Packed! album], but it had just driven them batty. So we all shared this sentiment, ˜Let's just go and enjoy this and see what happens.' We entered the studio, and five weeks later the record was done.
Up until then, Los Lobos' basic sound had been a sort of Chicano-tinged roots-rock variant, but when the band brainstormed with Froom and Blake and let their collective imagination run riot, they dreamed up something almost otherworldly. From the Duke Ellington-in-outer-space feel of the surreal Kiko and the Lavender Moon to the Meters-on-acid moves of Dream In Blue, the record is a wild, eclectic ride. The seamlessly syncretic results were achieved quite organically, according to Berlin. I think we really sort of developed a group mind. Even when we were doing this [20th anniversary] reissue, there were things that, for the life of me, I couldn't remember if I played or Mitchell played. We really did develop this sort of hive mind thing. A huge part of it was the way Tchad was engineering stuff. The record, by and large, is all first takes, and the way you make first takes work is you have a genius like Tchad doing the engineering. The sound that Tchad was rendering from what you were trying to do made the whole thing work. I think that's one of the ways the record has that sort of magical-realism quality. We really didn't know what the hell we were doing or where we were going, but because it sounded so cool, it all kind of worked.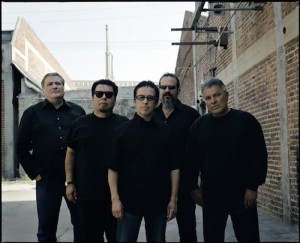 Not only did the Kiko sessions give Los Lobos a musical modus operandi that would fuel their creativity for years to come, it also helped to establish the Froom/Blake team as a force to be reckoned with. In some respects Kiko might have been the first record that defined the Mitchell Froom/Tchad Blake sound, affirms Berlin. We've done a bunch of records with Mitchell and Tchad since, so I've kind of gotten to see it develop, but that was really the first time that Tchad got to really explore the hi-fi/lo-fi aesthetic that would come to define his work over the years. It was a combination of brutally abused sounds and incredibly beautiful sounds, all coexisting in the same space.
Twenty years later, a live DVD/CD release and a reissue of the original album honor the legacy of this sui generis moment in time. But according to Berlin, it took a while to put all the elements into place. At the 15th anniversary, we had done a series of [Kiko] shows. At that time we were still on Hollywood Records, and they thought it would be a good idea to do some kind of commemoration, so we did a short tour playing Kiko in sequence, and then we shot the show that became the DVD. Sadly enough, it took us the better part of five years to extract it from Hollywood. Having left the label didn't help very much, because they no longer had a stake in our future development. So it took this long to find someone like Shout! Factory who was willing to go through whatever Hollywood made them go through to make it happen. It's always been a special record to us " it's probably a favorite record of many of our fans, so we knew we wanted to treat it with a sense of veneration and respect.
That veneration will continue this fall, when Los Lobos commemorates both the Kiko Live release and the 20th anniversary edition of the original album by hitting the road for one more string of Kiko shows. But even after all this time and a fair amount of reflection, a bemused Berlin still can't quite put his finger on the formula (if there ever was one) that brought about such a singular sonic statement. It all kind of works somehow, he says simply, I don't know how, but it all kind of works.
More like this: