Is Nicki Minaj Endorsing Mitt Romney?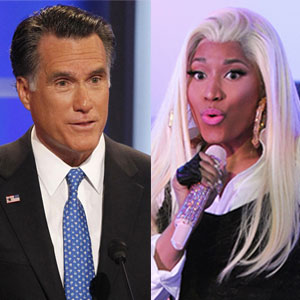 Nicki Minaj's lyrics have always raised eyebrows…but this time, it's political.
In her guest verse on Lil' Wayne's song "Mercy," Minaj spits, "I'm a Republican, voting for Mitt Romney/You lazy bitches is f-cking up the economy." Call us crazy, but something about Minaj endorsing Romney just doesn't sound right. After all, as a black female immigrant with a gay alter ego, she's not exactly your typical Romney supporter.
Looking at the lyrics alone, it's tough to say if Minaj is speaking from the heart, or simply channeling one of her many "personalities." Though she has expressed discontent with Obama's policies in the past, she's never labeled herself as a member of one specific party. Could she possibly be firing that second line at Republicans? Only Nicki knows, but she's keeping quiet to let the media frenzy begin. And according to Talib Kweli, she knows exactly what she's doing.
Minaj has always been a creative artist with a colorful vocabulary and a penchant for using pop culture references in her lyrics. In fact, the very next line after the Romney mention is, "Out in Miami, I be chillin' with a zombie," a nod to the May cannibalism incident in the Florida city. With lines like that, can we really take all of her words seriously?
Listen to the track here and share your thoughts in the comments below.
More Like This: