Greg's Top 5 Most Anticipated Albums Of 2013
published by
Greg
on
January 2nd 2013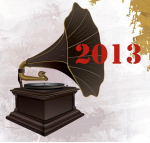 We're saying farewell to our co-op Greg, who was a lifesaver for us here at OurStage, as he picked up tasks ranging from Community to Account Management, to Editorial. If you're a frequent reader of Plugged In, you've no doubt read his work. We asked Greg to list some of his music picks for 2013:
Last week, we recapped our favorite releases from the past year. Now, as we bid 2012 adieu, we welcome 2013 and all of the awesomeness it has in store. While there are so many great releases to look forward to, coming up with this list couldn't have been easier for me. Most of these records are still in the early stages of post-production, but I say it's never too early to get excited. So here are my top 5 most anticipated albums of 2013 (in no particular order):
City and Colour – (Title TBA)
2011's Little Hell really put Canadian rock star Dallas Green on the mainstream map. His 3rd full-length solo album was his most powerful yet. Now, after leaving Alexisonfire, his band of 10 years, to focus full time on City and Colour, we can only imagine that the sky is the limit for this talented singer-songwriter. Green wrapped up recording for the fourth album this past November and expects to release it sometime early-mid 2013.
The Dillinger Escape Plan – (Title TBA)
Dillinger are one of those legendary bands who go years without releasing a new album, but then when they do, you realize the wait was worth it. 2010's Option Paralysis was possibly the most eclectic and eccentric installment by the brutal math-core wizards. With recording for their fifth full-length in the bag, fans are primed for the release this Spring.
Bad Rabbits – (Titles TBA)
In 2009, these Boston locals burst onto the scene with their groundbreaking debut EP Stick Up Kids, 7 songs of non-stop head banging funk soul party pop. On that release alone, they've had outstanding momentum, including their run on the 2011 Vans Warped Tour. However, as infectious as those songs are, three years is too long to go without giving fans more. Luckily, Bad Rabbits have a whole arsenal of finished recordings just waiting to be released via shotgun blast in 2013. Get ready for two more EPs, along with videos, limited edition merch, new live dates, and more.
Queens Of The Stone Age – (Title TBA)
The most anticipated rock album of 2013 may be the new Queens Of The Stone Age record. Not only has it been over five years since Josh Homme's last release with the project, but now, among all of the rotating members that have played in the band, Foo Fighters frontman Dave Grohl has returned on drums along with Nick Oliveri on bass. As two of the quintessential members of QOTSA's breakthrough album Songs For The Deaf, they helped define the band as many fans know it today. Now that they're back on board and finished recording, we can only imagine the sheer magnitude of this next album, due out early this year.
More Like This:
OurStage's Staff Favorites From 2012
OurStage's End Of The World Playlist; Songs For The Apocalypse