Exclusive Q&A: Daddy Yankee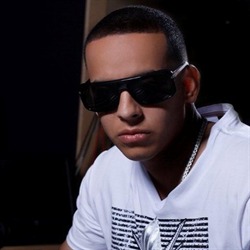 [Léelo en español abajo.] There are musicians who find a market in their corner of the world, finding comfort in familiar surroundings and culture. They can climb through the underground to become national treasures, occasionally with minor tours around the world. Then there are international superstars who are more likely to be found on a trans-continental flight, taking the world by storm all at once. Of these, Daddy Yankee is decidedly the latter. Over the course of his career, Daddy Yankee has set the bar for pop artists, including both Latin musicians and artists worldwide, with a steady stream of hits that permeate cultures around the globe. Now, having just finished 2012 with yet another multi-national trek, Daddy Yankee speaks with OurStage about his journey to the top, what aspiring artists can do to reach their own career goals, and what fans can expect from him in 2013.
If you're a Latin musician looking to take your career to the next level be sure to enter the Tr3s "El Headliner" Competition for a chance to win artist features on Tr3s' show Top 20, as well as Tr3s.com's Music My Güey, Descubre & Download, and Blogamole.
OS: Since OurStage.com is the leading online destination for emerging artist in the US, can you talk about your first big break in music?
DY: My first big break really came in 2004 when the release of my album Barrio Fino opened the door for me not only in the states, but worldwide. That album included the classic song that launched it all for me, "Gasolina."
Who are some undiscovered artist that you're excited about?
I'm always trying to support undiscovered talent in the Latin market. For instance I've taken under my wing an incredible production team called Los De La Nazza, who were unsigned and trying to make it, and have proven to be a key element in my success.
In the US, your music crosses many radio formats, including Latin, Urban, Rhythm, and Pop. Talk about why you think audiences of all types love your music?
Music is a universal language; sometimes you don't have to understand the words that are being spoken to enjoy it. My style of music is unique – it makes people want to dance and have fun. I have fans from all around the world that don't speak either English or Spanish, but they still buy my music and go to my shows. I don't limit myself. I like to try new things and new sounds and I've been blessed by the success it's brought me.
What's next for Daddy Yankee? What can fans look forward to in 2013?
I'm looking forward to 2013. In addition to all my Latin projects, I'm also going to be putting more focus in targeting the mainstream market. This last album I released has a song called "Lose Control" that has been receiving a lot of love from English radio over the past few months. I've also got a great collab with French Montana due out in 2013 [and] I've been working with some incredible DJs and producers in the Dance genre that are helping put a new spin on the Daddy Yankee sounds that everyone already knows and loves.
What would you say to undiscovered artists who are working so hard to catch that first big break?
We live in a moment in music where the power is in the hands of the artists themselves and their fans. There are no excuses, the Internet is [the] most powerful platform to get your music out to the masses. If you stick with it and are committed, your time will come. As long as what you're doing in the studio is right, you have just as good of a chance as anyone else in landing your big break.
[Léelo en español abajo.]
Hay músicos que encuentran un mercado en su rincón del mundo, donde se sienten cómodos en un ambiente y cultura familiar.
Pueden subir clandestinamente y convertirse en patrimonio nacional, con ocasionales tours pequeños alrededor del mundo. Luego están las superestrellas internacionales quienes frecuentemente se encuentran en vuelos transcontinentales, tomando al mundo por sorpresa. Entre estos últimos, Daddy Yankee es definitivamente el más reciente. A lo largo de su carrera, Daddy Yankee ha colocado la barra más alta para los artistas pop, incluyendo músicos latinos y artistas alrededor del mundo, con un flujo constante de éxitos que impregnan culturas alrededor del mundo. Ahora, habiendo terminado el 2012 con aún otra etapa multinacional, Daddy Yankee habla con OurStage sobre su viaje a la cima, lo que los artistas aspirantes pueden hacer para alcanzar sus propios objetivos profesionales, y lo que los fans pueden esperar de él en 2013.
Si eres un músico latino que buscan llevar su carrera al siguiente nivel, asegúrate de entrar en la Competencia de El Headliner de  Tr3s para tener la oportunidad de ganar promociones artí­sticas en programas de Tr3s como el show Top 20, así­ como Music My Güey, Descubre & Download, and Blogamole.
OS: Considerando que OurStage.com es el principal destino en Internet para artistas emergentes en los EE.UU., nos puedes hablar de tu primer gran oportunidad en la industria de la música?
DY: Mi primer gran oportunidad llegó en el 2004 con el lanzamiento de mi álbum Barrio Fino que me abrió las puertas, no sólo en los Estados Unidos, sino a nivel mundial. Este álbum incluyó la canción clásica Gasolina la cual comenzó todo para mí­.
Quiénes son algunos artistas por descubrir por los que estás emocionado?
Siempre estoy tratando de apoyar al talento no descubierto. En el mercado latino, por ejemplo, he tomado bajo mi ala a un equipo increí­ble de producción llamado Los De La Nazza que eran independientes, tratando de hacerla, y han demostrado ser un elemento clave en mi éxito.
En los EE.UU., tu música abarca muchos formatos de radio, incluyendo Latina, Urbana, Pop y Rhythm. Dinos por qué crees que al público de todo tipo le encanta tu música?
La música es un lenguaje universal, a veces no hay que entender las palabras que se hablan para disfrutarla. Mi estilo de música es único y hace que la gente quiera bailar y divertirse. Tengo fans en todo el mundo que no hablan ni Inglés ni español, pero aún así­ compran mi música y van a mis shows. No me limito, me gusta probar cosas nuevas y sonidos nuevos y he sido bendecido por el éxito que me ha traí­do.
Qué es lo que sigue para Daddy Yankee? Qué pueden esperar los fans en el 2013?
Estoy emocionado por el 2013, además de todos mis proyectos latinos también voy a poner más énfasis en cubrir el mercado principal . Este último disco incluye una canción llamada Lose Control que ha estado recibiendo mucho amor en la radio de habla  Inglesa durante los últimos meses. También tengo una colaboración excelente con French Montana en el 2013. También he estado trabajando con algunos DJs increí­bles y productores en el género de Dance que están ayudando a ponerle un nuevo giro al sonido de Daddy Yankee que todo el mundo ya conoce y ama .
¿Qué le dirí­as a los artistas por descubrir que están trabajando muy duro para encontrar esa primera gran oportunidad?
Vivimos en un momento en la música donde el poder está en manos de los propios artistas y sus fans. No hay excusas, el Internet es la plataforma más potente para llevar tu música a las masas, si te aplicas y estás comprometido, tu tiempo llegará. Mientras estés haciendo en el estudio lo correcto, tienes tan buena oportunidad como cualquier otra persona de encontrar tu gran oportunidad.