Back From the Dead: The Revival of Vinyl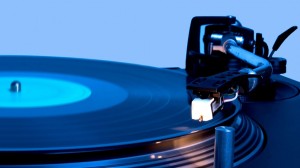 A new start-up company is striving to meet the fast-growing appreciation for vinyl with an affordable but high-fidelity turntable.
Over a quarter century ago, record players and the accompanying 12 vinyl discs were packed up in the attic, left to collect dust, and eventually sold at tag sales for a few bucks. But within the past few years, there has been resurgence in the demand for more vinyl among listeners. In 2011, vinyl sales rose nearly 40% from the previous year. Interestingly enough, the past 6 years prior to 2011 marked a steady decline in vinyl sales each year. In 2012, that number climbed nearly an additional 18% from 2011.
Reaching nearly 4 million units sold last year, the demand for vinyl has increased from even just a half a decade ago when sales were under one million. In perspective, of course, this still accounts for the smallest percentage of album sales when compared to CDs and MP3s. Overall physical and digital album and singles sales reached over 853 million last year, making vinyl a relatively tiny dent in the equation. However, the drastic increase in vinyl alone has not gone unnoticed and analog enthusiasts and audiophiles alike are grinning.
Where is the sudden demand for vinyl coming from? Perhaps surprisingly, we can credit a new generation of musicians and fans for the revival. Many artists and bands have begun releasing vinyl copies of their music, accompanied with a digital download code that buyers can redeem to receive a digital version of the album. While CDs are obviously a more convenient format that vinyl, digital files are more convenient still, rendering CDs far less vital than they once were. The attractiveness of vinyl, then, apart from the subjectively superior sound, is as a tangible object. If buyers want something to show for their money, it might as well be a nice, substantial, and attractive package, to say nothing of any nostalgia or kitsch factor.
Inspired by such a definitive trend, three recent graduates " one each from Northeastern University, Cornell University, and Berklee College of Music " have teamed up to create U-Turn Audio, a company whose ambition is to create a high-end turntable at a more affordable cost than its competitors.
U-Turn's Peter Maltzan has an additional theory as to why people have been attracted to vinyl recently. It's quite possible that the reemergence of vinyl is simply a backlash against the smaller, quicker, more convenient gadgets that have been thrown in our faces for the past 15 years. If something is too convenient, people can start to lose their appreciation for it, and convenience is certainly not synonymous with quality. Vinyl users take on the relatively tedious process with attentive care, and don't just feel, but show and act out their appreciation for music. To them, the experience as a whole is more fulfilling than clicking a button. Music lovers will always be looking for a way to personally connect with their collections, which is why there will always be a demand for a physical medium.
Within the past year, the trio have introduced the Orbit turntable; a tempting development for vinyl lovers everywhere. Priced at around $150, the quality of the components and construction competes with turntables twice the cost. This is great news for all you hi-fi fetishists out there, especially those just starting to embrace the vinyl revival.
More Like This: