For All Those Sleeping Release "Mark My Words" Video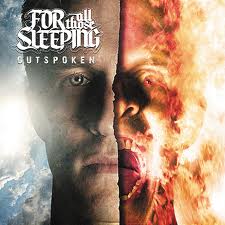 Continuing the hype they've built in the last few years, Fearless Records's For All Those Sleeping have just released their first music video off of their sophomore album, Outspoken. The first single, titled "Mark My Words" is accompanied by a comical video including a preface and conclusion to the video (both sections do not include music), and the entire video can be seen here.
Now with two videos under their belt (one from their first album, Cross Your Fingers), the band seems to have taken their image in a new direction. Originally, we've seen the band with brightly colored deep v-neck tees and the punk/hardcore vibes emitted from their first music video and overall presence. Now, it is apparent that the band has turned up the metalcore swag – check it out and see for yourself.
More Like This: