55th Annual Grammy Awards Recap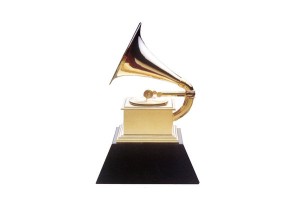 The Grammys are a funny thing. On one hand, the awards have been long derided as out-of-touch, self-congratulatory celebration of mediocrity and irrelevancy. On the other hand, the Grammys remains the standard-bearer of the very top of the music world. An award means sales and attention for winning artists. Just ask Milli Vanilli. Oh, I kid the Grammys.
See full list of winners below.
Last night hammered home that the awards ceremony can also do glitz, glamour, and the good life like the Oscars. Jay-Z (Best Rap Performance, Song, and Collaboration) sipped cognac in the front row, seeming to anoint pop stars with his approbation, rubbing elbows with Mrs. Timberlake, and generally holding court. The beautiful people were out in force, looking beautiful, mostly adhering to the controversial dress code…even if some of the winners were a little more rag-tag.
Mumford & Sons (Album of the Year and Long Form Music Video) had a good showing with two wins, bringing,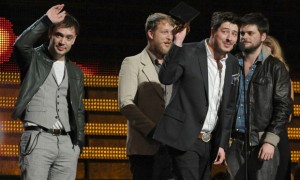 along with The Lumineers, a new wave of folkpop to the masses. When will we ever again see a Grammys featuring two separate performances with the stand-up kick drum stomp?
Fun. (Song of the Year and Best New Artist) also had a big night, literally making it rain inside the theater. I know not what additional sorcery these men are capable of " but it must have taken some kind of black magic to win Best New Artist moments after announcing that they'd been doing this for 12 years.
Another big winner was Dan Auerbach (Producer of the Year) and his band The Black Keys (Best Rock Song and Rock Performance), who represented quality rock and roll for the ceremony. Their performance of Lonely Boy with Dr. John and The Preservation Hall Jazz Band was a beautiful match.
And Justin Timberlake " let's admit it, the guy has the world on a string. A gifted performer, funny, and a seemingly nice guy, who has made some really good pop music, JT can do whatever he wants now, including duet with Jay-Z before easing into a faux-big band number. The sepia tint was too much, ABC. Let the man's classic style speak for itself. In the end, though, there's just something that keeps Timberlake from being truly great " and it's his voice. I'm not saying the dude can't sing, I'm just saying that he's still got the N'Sync voice. It has no¦gravitas. I bet he's not sweating my critique though.
Other thoughts¦
That Frank Ocean (Best Urban Contemporary Album and Rap Collaboration) performance was weird, right? I mean, bad-weird. Do what you want, Frank, we're here for you, but you've gotta stay in tune.
Sting's price to show up and play with you is apparently no higher than just being asked, so there he was with Bruno Mars, and, man, it was pretty good. Walking On The Moon was a great choice, and I'm glad he was rocking the bass.
And you may be sick of it, or it may never have been your kind of thing, but if you try to tell me that Somebody That I Used To Know is not a killer track, you are a liar and probably a jerk. What the world needed now was a Human League for the next generation, and Gotye and Kimbra (Best Pop Duo/Group Performance) gave it to us. Very nice and appropriate nods to Prince from both of them.
The Levon Helm tribute performance of The Weight was nice, with standout performances by Mavis Staples (who memorably sang the song with Helm in The Band's film The Last Waltz) and Alabama Shakes' Brittany Howard. Too bad Elton John was just taking a song-length piano solo all over the damn thing.
Oh hey, Taylor Swift wants you to know that she's the world's biggest music fan, ok? Did you see her? With the arms up and the singing? She knows the songs, ok?
And finally, if anyone needs to tie a hobo bindle on the end of a stick, just follow Johnny Depp for a few minutes. He has bandannas falling off of him.
Full winners list after the jump…
Album of the Year
Mumford & Sons, Babel
Record of the Year
Gotye featuring Kimbra, Somebody That I Used to Know
Song Of The Year [awarded to songwriter]
We Are Young, Jack Antonoff, Jeff Bhasker, Andrew Dost & Nate Ruess, songwriters (Fun. featuring Janelle Monae)
Best New Artist
Fun.
Best Pop Vocal Album
Kelly Clarkson, Stronger
Best Pop Solo Performance
Set Fire To The Rain (Live), Adele
Best Pop Duo/Group Performance
Somebody That I Used To Know, Gotye featuring Kimbra
Best Traditional Pop Vocal Album
Kisses On The Bottom, Paul McCartney
Best Rock Performance
Lonely Boy, The Black Keys
Best Hard Rock/Metal Performance
Love Bites (So Do I), Halestorm
Best Rock Song
Lonely Boy, The Black Keys
Best Rock Album
El Camino, The Black Keys
Best Alternative Music Album
Making Mirrors, Gotye
Best R&B Performance
Climax, Usher
Best Traditional R&B Performance
Love On Top, Beyoncé
Best R&B Song
Adorn, Miguel
Best Urban Contemporary Album
Channel Orange, Frank Ocean
Best R&B Album
Black Radio, Robert Glasper Experiment
Best Rap Performance
N****s in Paris, Jay-Z & Kanye West
Best Rap/Sung Collaboration
No Church In The Wild, Jay-Z & Kanye West featuring Frank Ocean & The-Dream
Best Rap Song
N****s in Paris, Jay-Z & Kanye West
Best Rap Album
Take Care, Drake
Best Country Solo Performance
Carrie Underwood, Blown Away
Best Country Duo/Group Performance
Pontoon, Little Big Town
Best Country Song
Blown Away, Carrie Underwood
Best Country Album
Uncaged, Zac Brown Band
Song Written For Visual Media
Safe & Sound (From The Hunger Games), Taylor Swift, John Paul White, Joy Williams
Short-Form Music Video
We Found Love, Rihanna featuring Calvin Harris
Long-Form Music Video
Big Easy Express, Mumford & Sons
Best Spoken Word
Society's Child: My Autobiography, Janis Ian
More like this: