Review: Before You Exit – 'I Like That' EP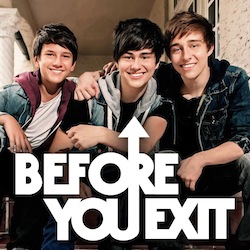 Bands crafting original pop music with actual instrumentation is a rare treat in this ever-crowded digital age. The ease of digital production has completed done away with the need for musical talent in many cases, but still some are fighting to bring back what some have called "real pop." One of those groups, Florida's Before You Exit, have just released a new EP that makes a great argument for why authentic pop music still matters in 2013.
Fronted by three young men, one of whom isn't even legally allowed to drive yet, Before You Exit have quickly amassed a following on social networks exceeding 100,000 fans. Their new EP, I Like That, offers reasoning for this breakout success with infectious hooks, angelic harmonies, and song structures copy/pasted from music's biggest names. "End Of The World," for instance, opens the album with a series of "Na Na Na" gang vocals that will assuredly pull in any casual genre fan, then sinks the proverbial hook in with a chorus you'll have memorized on a first listen. It's music that requires almost zero effort to enjoy, and that is exactly what makes it so great. No deep metaphors about life or EDM inspired one-liners that repeat until you go crazy here, just a couple of hooks and talk about girls that is as old as music itself.
When it comes to bands like Before You Exit, one chance may be all they get. Pop fans are fickle creatures, and if you don't come out swinging on your debut there is very little chance any future release gains traction on a national level. Lucky for these guys, they have a killer buried amongst I Like That, and it'll be the upset of 2013 if it doesn't find its way onto the charts. That song, the title track "I Like That," is one part boy band and two parts pop rock, with just a dash of studio magic added for that high-gloss sound. It's the kind of song you cannot help telling your friends a because it becomes instantly engrained in your mind and plays on repeat for hours at a time. Even now, writing this in a room void of music, I can hear their youthful voices telling girls everywhere that their beauty stems from the fact they're unable to see how great they truly are, and for me there is no truer sign that someone has struck music gold than when that occurs. All the big songs get stuck in your head whether you want them to or not, and "I Like That" is likely to consume your mind for weeks at a time.
In a time where the rise of boy bands has seemingly hit its third stride in as many decades, Before You Exit are hitting the road with a sound that proves there is more a group like this can do with pop music than dance in unison. These guys are the real deal, if you will, and in the months ahead that fact alone will help propel them further and further into the national spotlight. If you love pop music there is no reason in my mind to think you wouldn't love this release, so hop on the bandwagon before it gets away from you and fall in love with Before You Exit today!
Review written by: James Shotwell