The Deloreans: OurStage Artist Of The Week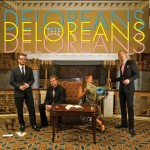 Our latest Artist of the Week is The Delorians. We were captivated by this band the moment we discovered their track "Attacked By A Panther," a track really unlike anything else we've heard on OurStage.
The band, out of Louisville, Kentucky, cites a wide range of influences, including but not limited to 'classical' music. It's not a surprise to see a number of '60s acts from The Kinks to The Crystals on their list. Don't think that this is another throwback pop act, though. Their sound is indeed retro, but difficult to pin on a certain era. It's romantic, spooky, grand, but simultaneously fuzzy and somewhat lo-fi. Yet it's not garage rock. There are sweeping elements from the pre-rock and roll era of pop, filtered through the '60s and into '70s glam. In fact, some of their songs evoke very early Bowie, himself a student of the music-hall vocalists of the '40s and '50s. Perhaps the band has summed it up best in their one-line bio: "The Deloreans are like Sinatra in Vegas, David Lynch, and being at the beach."
Anyway, the songs are catchy as hell, is the main thing. Check out Attacked By A Panther below.