Larry g(EE) Records Daytrotter Session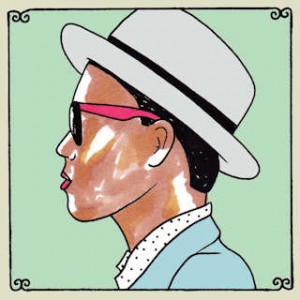 OS Member Larry g(EE) has become the latest rising talent to be featured on the popular Daytrotter webseries.
Popping up online a few weeks after Larry and his band made a trek to the company's HQ, Daytrotter's latest session with our favorite Texas native offers fans four stripped-down performances. Included in the mix of songs are singles "Yo Mama" and "I'm Your Fool," as well as rare gems "I Don't Know" and "I Think I Love You." Membership is required for downloads, but those who signup today should be able to experience Larry's sound for free.
Discussing recording with Larry, a team member at Daytrotter wrote, "For the record, Larry g(EE) and his band were sweating their FACES off during the taping of this session a few weeks ago. It gets HOT up in the Horseshack during the summer months. Larry g(EE)'s music is meant for heat and humidity. It's meant for getting sexy. You cannot fight the urge to want to get hot and sweaty with all of these Texans. Let's all take our shirts off, right now!"