The Jellybricks Win A Year Of Free Strings From Ernie Ball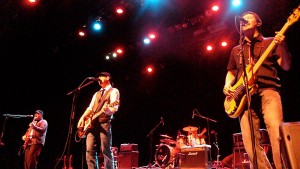 The 2nd winner in our yearlong Ernie Ball Save Your Strings Competition has been selected. For phase one, with your help, we found a great, undiscovered pop act, Biscuits & Gravy. This installment of the competition was a hunt for the top rock band, and the winner is¦ Pennsylvania's The Jellybricks.
The Jellybricks aren't exactly an out of nowhere band of newcomers. In 2012, they released their fifth album, Suckers. They're a road-tested working band who have been lauded by Rolling Stone and SiriusXM's Steven Van Zandt. The last few years have found the band honing their sound, and evolving away from pure power-pop and toward something new, with elements of ˜70s glam and vintage garage (no wonder Little Steven was hooked). But it still circles back to the basics " undeniable melodies, crunchy guitars, and killer harmonies.
Check out the winning track, Rock ˜n' Roll Suicide, to hear what convinced the Ernie Ball judges to award The Jellybricks with a year's supply of strings and accessories, plus a chance at the Grand Prize " an Ernie Ball endorsement and a Music Man guitar for each player in the band.
Next up is our Save Your Strings Country edition, and then Ernie Ball will select the big winner from among the three genre winners.