Chris Brown And Frank Ocean Fight At Los Angeles Recording Studio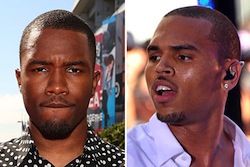 Well, this was unexpected.
TMZ is reporting that Chris Brown and Frank Ocean were involved in a fight at a Los Angeles recording studio last night following a dispute over parking. Apparently, Brown was at the studio working with an artist he recently signed, when Ocean rolled through and complained to Brown that he was parked in the wrong place. What followed exactly is unclear, but according to tweets from Frank Ocean (seen below) it seems Chris and his security jumped Ocean, with Brown landing at least one punch on the "Pyramids" vocalist. This is contrary to other reports, which claim Frank's guards were the first to start the fight. Police were called to the scene, but Brown left before they could arrive. Ocean stayed to answer questions, and as a result is currently being considered the victim in the situation.
Police are still hoping to speak with Brown about the altercation, but as of 8AM (EST) he had yet to step forward and cooperate. Stay tuned for further developments.
got jumped by chris and a couple guys. lol. i only wish everest was there.

— frank ocean (@frank_ocean) January 28, 2013
cut my finger now I can't play w two hands at the grammys.

— frank ocean (@frank_ocean) January 28, 2013