Late Cambrian: OurStage Artist Of The Week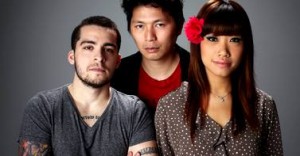 Brooklyn's Late Cambrian is our new Artist of the Week. No strangers to the OurStage community, this three-piece rock combo has seen several placements at the top of our fan-ranked charts, as well as in the overall Best of the Best, and they first won the opportunity to appear at Maine's KahBang Festival (to which they've been invited back repeatedly by festival organizers) as a result of their popularity on OurStage.
We've been psyched to see them grow from an undiscovered gem into one of the more fast-emerging bands on the independent scene. Their video and single Ryan Gosling was a minor hit, securing serious international airplay. The band has toured relentlessly and, having just performed a showcase at New York's CMJ festival, is headed out on the road again this fall, supporting Wheatus.
In an era when pop-rock bands are so often disposable carbon copies of each other, Late Cambrian breathes new life into the genre. The songs are smart and catchy, the sound is jittery, angular, and immensely danceable " yes, a rock band you can really move to. This year's LP, Peach, expanded the band's palette to great effect, adding more complex arrangements and lofty atmospherics to the core elements of chiming guitars, driving rhythms, and smooth harmonies. Gone are the obligatory, sometimes obvious nods to Weezer and other ˜90s power pop godfathers, and in their place is an original and clever synthesis of influences that ends up sounding like nothing but Late Cambrian; like nothing but now. Check out the video for Ryan Gosling, as well as fall tour dates, below.

Late Cambrian / Wheatus Dates:
Oct 27th Revolution Bar – Amityville NY
Oct 28th The Stanhope House – Stanhope NJ
Oct 29th Empire – West Springfield VA
Oct 31st McGrath's Pub – Dalton PA
Nov 1st The Smiling Moose – Pittsburgh, PA
Nov 2nd Reverb – Reading PA
Nov 3rd Championships Bar – Trenton NJ