Jake Miller Streams 'Us Against Them' In Full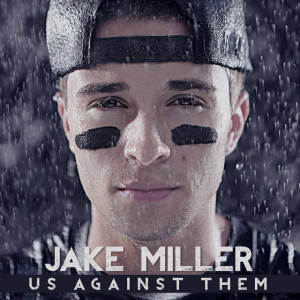 A decade ago there really wasn't a 'pop underground.' Indie groups used pop elements in songs, sure, but it wasn't until the rise of social media and YouTube that underground pop acts began emerging from the grey of anonymity. Now anyone with Garageband and a hook can put original compositions together to rival what's on radio, and as a result a whole new scene has come into existence. Part pop, part club, and all types of fun, artists in this arena make feel-good music without any concern for whether or not Top 40 will spin their singles. They focus on building relationships through their online presence, and in turn develop dedicated followings who support their tour efforts. Jake Miller is a prime example of this type of talent, and this morning his new full length album appeared online ahead of its scheduled release date.
For the last few years, Jake Miller has been the talk of many a Twitter feed and college message board. His music is inspired by the place where hip-hop and pop collide, and on Us Against Them he delivers the most realized version of his unique sound to date. The 12-track offering debuted on Pandora today ahead of its scheduled November 5th digital release, and those who want to hear the future of pop music would be wise to click here and discover what Miller has to say.
From the pop vibes of "Me and You" to the lighthearted cockiness of "Number One Rule," Jake Miller has put together a collection of potential hits with Us Against Them that should help push him to the next level of fame. We discovered his music over the summer and are nothing short of amazed by what this young artist has already achieved in the short time he's been on our radar. The sky is the limit, and at the rate he's going Jake Miller will be amongst the clouds in no time at all.