Chief Keef Releases "That's It" Video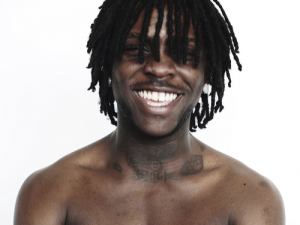 Another week, another brand new single and video from Chicago native Chief Keef.
I think Chief Keef may have set a record for video releases in a single year that no one will be able to top. Nearly every other week we have featured a new single from Keef, and that streak continues today with the release of his new single, "That's It." The song is the same speaker-shaking lyrical nonsense you've come to expect from Keef, only this time the focus is on money instead of women and possessions. You can experience the track below.
Somewhere in Illinois lies a mansion that Keef and his team purchased shortly after the teen signed his major label deal. This same location has been used in the majority of Keef's videos, and it appears again in "That's It." Keef is seen rapping and conducting business while relaxing on his staircase, which I'm fairly sure is one of the few places Keef had yet to feature in a video. What's next, his bathroom?
Chief Keef already released two mixtapes this year, but there are rumors a third will drop before 2014 begins. Comment below and let us know your thoughts on his new material.