Music Business: The Pride Of Detroit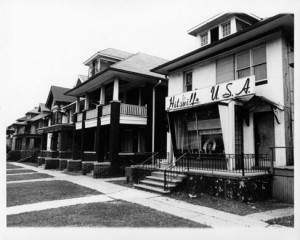 The city of Detroit, Michigan is broke. The economically depressed metropolis has hit a low point and is now seeking protection under bankruptcy laws.
Detroit has long been known as a center of both the automotive and music industries. While the former is still struggling to regain its footing, the latter still booms. A report released this week values the Detroit music industry as a $1.1 billion business.
According to a statement from Anderson Economic Group, who performed the study, "The Detroit area music industry has a great brand and legacy that spans decades. In the study, we found that our great music tradition not only continues, but directly or indirectly employs over 7,000 and contributes $170 million in worker earnings to the local economy."
On top of its roots as the home of Motown Records, Iggy Pop, and The MC5, Alice Cooper, and Bob Seger, Detroit has seen exports like Eminem, Big Sean, The White Stripes, Kid Rock, and Danny Brown.
Let's not discuss Ted Nugent. Hasn't Detroit been through enough?
Instead focus, as NME did here, on a lot of great new acts coming from the Motor City.
MLive culled some additional data from the report:
-The metro area is home to 486 music-related businesses as well as over 400 bars, parks, restaurants, and other performance spaces. The report estimates indicate that there are between 40,000 and 50,000 live music days per year in the area.
-Higher education institutions in the metro area have awarded more than 3,000 degrees in music business, theory, composition, and performance in the past decade.

-Detroit's music industry (based on 2011 figures) makes up a larger share of the area's total employment (.37%) and payroll compared to similar cities like Pittsburgh (.36%), Dallas (.25%), Indianapolis (.22%), Cleveland (.22%) and Kansas City (.21%).
-Total industry revenue is projected at $1.15 billion, including record sales and gate revenues from entertainment venues.
-The average worker brings in roughly $27,000 a year for workers at music industry establishments.
-At least 38 Grammy award winners and nominees from the past five years have a Detroit connection.
-At least 10 Detroit area high schools have won Grammy Signature School awards in the past decade because of their successful music departments.
-The average bar or restaurant venue in the Detroit area hosts about three days/nights of live music per week. This adds to more than 25,000 days/nights of live music per year.
-There are 40,000 to 50,000 total music days/nights each year at bars and restaurants in the metro area.
-There are an estimated 1,924 (or about 2,000) independent artists, DJs, and groups perform that annually throughout the Detroit area at bars, lounges, and restaurants each year.
Let's hope the Detroit music industry can be the foundation for the city's future rebirth.