5 Valentine's Day Songs To Make You Swoon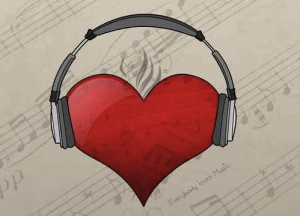 Girls, send this list to your significant other. Boys, pay attention. Valentine's Day is just around the corner, and if the rows of heart shaped candy boxes and giant red teddy bears lining supermarket shelves haven't clued you in, we're here to remind you….again. Valentine's Day may be one of the more ridiculous holidays that we honor, but nevertheless, here we are. And in truth, we'll take any excuse to provide you with an awesome playlist. So scroll down and get into the Valentine's Day mood. Romance, love, and plenty of sap.
The Cure: "Just Like Heaven"
I know, I know, The Cure can be a little depressing. But there's just something about this track that ignites all those warm fuzzy feelings associated with love. Besides, if someone tells you you're "Just like Heaven" what is there to not feel good about?
Frank Sinatra: "I've Got You Under My Skin"
Ol' Blue Eyes himself was bound to make this list with another classic. I've got you deep in the heart of me. So deep in my heart that you're really a part of me. I've got you under my skin. Beautiful, romantic, timeless.
Bright Eyes: "First Day Of My Life"
Love 'em or hate 'em, Bright Eyes are well versed in the subject of love. Even the video is sickeningly cute.
The Killers: "Runaways"
This one isn't a traditional love song, but with lyrics like I knew it when I met you, I'm not gonna let you runaway. I knew it when I held you, I wasn't letting go, how can you not get a little weak in the knees?
Taylor Swift: "Love Story"
You didn't think you'd get away from this list without hearing from Taylor Swift, did you? "Love Story" remains an ideal soundtrack to any fairytale romance. Not to mention, it's what made most of the nation first fall in love with Taylor Swift.
If you like The Killers check out OurStage artist A Lion Named Roar.
More like this: