Fall Out Boy Chicago Set List And Live Video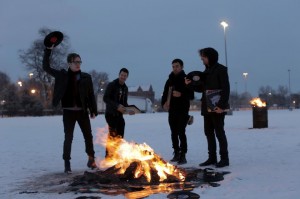 If you're still hyperventilating over Fall Out Boy's recent reunion announcement you'd better sit down for this next one. Last night, the band played their sold out hometown show in Chicago, and it seems there was no shortage of fan screams, squeals, and swaying arms, crammed inside this 375 capacity venue.
Speaking to the crowd, bassist Pete Wentz said, There's lots of stuff about [our reunion, our show, our album] that will be written on the Internet. Don't let them tell you how it was. Take a snapshot of this moment and remember how this was for you.
For those that weren't able to snag tickets, you can take a look at the set list, and a few fan shot videos from the show after the jump.
Set List
Thriller
I Slept With Someone in Fall Out Boy and All I Got Was This Stupid Song Written About Me
A Little Less Sixteen Candles, a Little More Touch Me
Dead on Arrival
This Ain't a Scene, It's an Arms Race
Nobody Puts Baby in the Corner
I'm Like a Lawyer with the Way I'm Always Trying to Get You Off (Me & You)
Tell That Mick He Just Made My List of Things to Do Today
Grand Theft Autumn/Where Is Your Boy
Hum Hallelujah
Dance, Dance
Honorable Mention
America's Suitehearts
Calm Before the Storm
What a Catch, Donnie
The Take Over, the Breaks Over
I Don't Care
My Songs Know What You Did in the Dark (Light ˜Em Up)
Sophomore Slump or Comeback of the Year
Beat It (Michael Jackson cover)
Sugar, We're Goin' Down
Encore:
Chicago Is So Two Years Ago
Thnks fr th Mmrs
Saturday
If you like Fall Out Boy check out OurStage artist Orange Avenue.
More like this: