How The Songwriters Behind One Direction Secretly Control Your Mind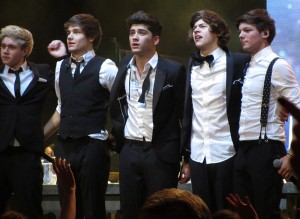 About a month ago, after One Direction dropped their latest release, Midnight Memories, most reviewers couldn't help but point out the album's shameless knock-offs of some of the biggest pop hits of the '80s including "Jessie's Girl," "Pour Some Sugar On Me," and pretty much any song by Asia, just to name a few. And, yes, while the songwriters behind the squeaky clean boy band's smash singles make their musical points of reference pretty obvious to any listener older than 12, they also manage to pull off some patently ingenious lyrical references that slipped by most recaps of the album " mostly because that was precisely what they were designed to do.
Upon a first listen, the first verse of "Better Than Words" sounds like pretty standard fare for a One Direction song: a just-generic-enough description of crazy, undeniable love that sweeps you up in its whirlwind of affection and excitement.
Better than words
But more than a feeling
Crazy in love
Dancing on the ceiling
But, if you haven't noticed it already, each line is also a song in its own right. The second line. The third line. And, you guessed it. These aren't just lyrics in a One Direction song, they're built-in references to seminal pop hits. And they're placed directly next to the title of the One Direction song, itself the very first line of the song.

OK, so what? What does this prove besides the fact that the One Direction songwriting team has a pretty decent knowledge of the Billboard charts of the last 35 years? Well, to feature the title of their own song as the first lyric, and then to follow that with several recognizable song titles (that most likely light up the subconscious pop music recesses of your brain) is to suggest a subtle connection between these tunes that immediately draws you in as a listener. "You remember these great songs, right?" the lyric whispers. "Then you might like this one too¦"
This might seem far-fetched, but it's how the brain works. And making reference to well-known past pop hits does more than just prime you as a listener to be more receptive to One Direction's song. It also establishes the band as fans of pop music themselves, blurring the boundary between them as performers and their listeners as fans. This is the same logic behind other, less subtle, One Direction lines such as this one. When One Direction sing about other pop artists in this way ("Katy Perry's on replay¦"), they place themselves on the same level as their fans, depicting their lives as fundamentally similar to the people who would see them as unattainable idols otherwise. The message is incredibly clear and incredibly clever: One Direction listen to Katy Perry " just like you. Though you might know deep down that they are ultra-famous pop stars in their own right, simply hearing them make reference to other hugely famous artists makes the One Direction boys a bit more relatable to the teenage girls who are their core demographic, which of course helps move records off the shelves and perpetuate the rabid fandom surrounding the group. Of course, this isn't new. It's just another trick in the utility belt that the slickest songwriters in the world use to manipulate your perception of their music. OK, I admit that a description like that might seem a bit over the top. What I really mean is this: as long as these guys keep pumping out songs that are this catchy, the aural manipulation is fine by me.
Follow Mikel on Twitter @Dream_Arcade
@OurStage

More like this:
Why Almost Everyone Loves Bowing Down To Beyoncé
Lana Del Rey Stole Half An Hour Of My Life And I Will Never Get It Back
Why Miley Cyrus' ˜Bangerz' Tour Might Be The Most Important Tour Of The New Year