Why Rick Ross Will Never, Ever, Win His Lawsuit Against LMFAO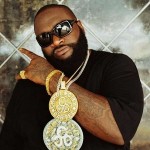 For years now, Freeway Rick Ross, the real life drug dealer upon whom rapper Rick Ross bases his stage persona and kingpin image, has been trying to nail Ross (the latter) for making millions by selling his music under an appropriated drug lord persona. Last week, a California judge dismissed Freeway Rick's most recent appeal, citing the rapper's creation of original works that only used the name as a jumping-off point. Freeway Rick was not amused.
In a statement issued following the judge's rejection of his appeal, the real Freeway Rick Ross remarked: "There is a teachable moment about the state of our community when a man who has a respectable job as a correctional officer, has to recreate himself in my former image as a large-scale kingpin to gain what he feels is social acceptance as a successful man." Though Freeway Rick's indignation does have a point here, he misunderstands Ross' motivations. Ross was never thinking about perceived social acceptance as a successful man. He was thinking about actual success. And he actually achieved it by making insane amounts of money because he understands the fan inclination to want to believe that artists' music reflects a truthful depiction of their lives.
Hip-hop culture has always been based on the appropriation and re-interpretation of communal objects from the past. It's called sampling. And hip-hop artists have been doing it in with their stage personas forever, pretending to be harder and more dangerous than they actually are. So when Ross took on the symbolic identity of a historical drug dealer, he was doing just that: "sampling" someone else's life and then turning it into something new. And that is exactly why Rick Ross' recent lawsuit against LMFAO for interpolating the lyric "Every day I'm hustlin" from his 2006 song "Hustlin" is so ironic, because when LMFAO jokingly altered that line, they were doing the exact same thing. Though Ross' lawsuit states that LMFAO's similar lyric is "an obvious attempt to capitalize on the fame and success of "Hustlin," the reality of the situation is a bit more nuanced.

Just compare "Hustlin" to "Party Rock Anthem." Where "Hustlin" paints a dead serious portrait of drug dealing life, "Party Rock" unambiguously pokes fun at the culture of mainstream hip-hop and pop by making everything about it completely over the top. From the clunky lyrics that spoof rap clichés ("now stop – hatin' is bad") to their goofy, stilted delivery " the lines that begin with "One more shot for us (Another round!)" are, rhythmically, hilariously unhip for a rap verse " to the "shufflin" line, the song is more than just critique of hip-hop and pop culture; it's critique of the fabricated artists that demand everyone take their personas seriously.
Which is ultimately why Ross' lawsuit is going to fall through; any clever listener with even a weak sense of irony can tell that the song is so clearly operating as a parody, placing it squarely within the realm of fair use. LMFAO are intentionally, if subtly, poking holes in the fallacious one-to-one relationship between musicians' stage personas and their real lives that has come to dominate modern music ("Tight jeans, tattoo, cause I'm rock and roll!" is a line said with tongues planted firmly in cheek). Ironically, in an age when social media has given fans more access than ever before to artists' mundane everyday existence, fans continue to believe that performers' real lives echo how they act on stage and in their music. It happens, mostly, because fans sincerely want to believe. Ross has made a fortune out of pandering to that desire through an assumed drug dealer identity, and LMFAO have now made a fortune out of skewering his pandering through their own over-exaggerated pop star shtick. That he can be the legally sound object of parodic ridicule is a hard lesson that Ross will have to learn, at least as long as he can stay out of the way of any other crazy lawsuits of his own.

Follow Mikel on Twitter @Dream_Arcade
@OurStage
More like this:
How The Songwriters Behind One Direction Secretly Control Your Mind
Why Almost Everyone Loves Bowing Down To Beyoncé
Lana Del Rey Stole Half An Hour Of My Life And I Will Never Get It Back