Larry g(EE) Scores Publishing Deal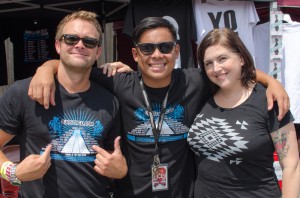 Larry g(EE), who earned the opportunity on OurStage to appear on Jimmy Kimmel Live! back in 2012, has signed a publishing deal with the well-respected and fast-growing Primary Wave.
Primary Wave will help Larry (last name Gayao) and his band to promote their music, particularly via licensing opportunities.
I am BEYOND the world HAPPY to announce that I am now a part of the @PrimaryWave family!!! – Via¦ http://t.co/AgBV9aKwOh

" Larry g(EE) (@_larrygee_) June 3, 2014
He told Dallas Morning News, The exposure that I think [Primary Wave] will bring not just to myself as an artist, but to the music is going to be incredible and help me take steps to releasing this new material.
To that end, Gayao also announced a new album due in 2015. Join him behind the scenes at Kimmel and listen to his breakout single "Yo Mama" below.