Nikki Lynette's Excellent Kmart Spot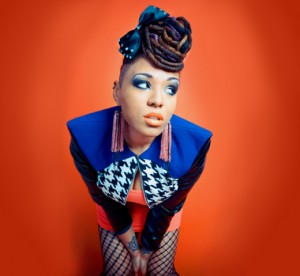 Nikki Lynette is awesome. She's a crazy talented artist, but also startlingly honest and often hilarious. We highly recommend following her on Facebook and Twitter, as her content there is all killer, no filler (or filter). It was from those sources that we learned of her appearance in a new national commercial for Kmart.
If you're like us, when you first hear the concept, "rapping lunchladies in a commercial for Kmart," you imagine the cringe-worthy worst. Instead, it's incredibly well-done and very funny. Never doubt a creative team savvy enough to include Nikki Lynette.
In addition, Lynette is a very good writer of prose and frequently contributes to Chicago Now, as she did with this piece discussing the new commercial. Very worth the read, and typically insightful, as she connects this opportunity to the options now available to artists:
So what I will do is remind my fellow indie artists that it's a new day in the entertainment industry. More and more opportunities are available for us now so we don't have to be so limited.  Just change your perspective. From where I'm sitting, things are looking pretty good to me.
Her new album, Respect My Disrespect, is due in the coming months.
More like this:
Backstage With Nikki Lynette
Nikki Lynette Reviews The New ˜Pirates' Movie On MTV's NextMovie.com
Hey Nikki