'Do As People Do' – The New EP From Beecher's Fault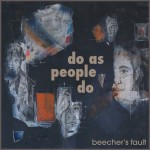 New York indie rockers Beecher's Fault have just released their new EP Do As People Do. The lead single, "Liquor Store," is a catchy blend of modern and organic sounds, propulsive and at the same time completely chill. It's also got a cool video, complete with sad clown and an impending summer vibe… Get the record here, and watch the video below.
UPDATE: The EP is now streaming on Spotify.