Nikki Lynette, "Praying To A God I Don't Believe In"
published by
Scott
on
March 23rd 2016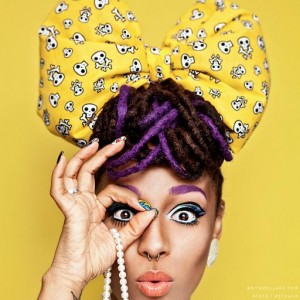 Nikki Lynette does not shy away from the hard questions. From her substantial body of work to her Twitter feed to her occasional newspaper opinion columns, you'll find the Chicago artist challenging conventional wisdom and taking on the trolls who can't handle it. Her newest track, "Praying To A God I Don't Believe In" (below), does not deviate from the theme, and she expresses the profound sense of doubt experienced to some degree by everyone but the most unquestioningly faithful. Lynette doesn't waffle much in gray areas, though. As the title indicates, she comes down pretty definitively on the side of disbelief.
And all the king's horses and all the king's men / couldn't put my faith back
together again / Now that's dark / But I don't see no light / And if there's wrong I don't see no right.
But of course there's doubt in the doubt, because in the end, she's still praying. No atheists in foxholes, as they say. Talking about this dichotomy, and the tension within her own doubt, she wrote, "For me, the idea of God I was raised with is something that is '#GoneButNot' but it's something I never spoke about until now." The hashtag #GoneButNot is related to a larger project that this song is a part of.
More like this:
New Track From Nikki Lynette: "Move The World"
Nikki Lynette's Excellent Kmart Spot