NextNext Hawaii Featured Artist: Jeff James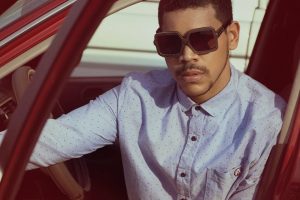 We at OurStage and Amazing Media are excited to be partnering with McDonald's of Hawaii for the NextNext search for the Sounds That Spark Change. We are bringing together Hawaiian artists with music fans and local charities in an effort to spread great music and help worthy causes. Here, we'll highlight some of the artists who have already signed up to participate, so that fans around the world get a chance to hear this great new music. You can learn more about the competition below.
Jeff James (sometimes aka Jeffro) is an artist whose feel-good island-influenced music belies a man with a serious purpose and a commitment to social betterment. it makes him a perfect addition to the NextNext Hawaii roster of artists, all of whom have demonstrated a willingness to help their community and are sponsoring charities now in order to do so.
Inspired by a friend's personal story, James recently made a short film highlighting the plight of homeless children in the Philippines. The film, entitled "Compassion," focuses on personal sacrifice in the service of others. You can watch it below.
The other side of the Jeff James coin is, of course, his music. A multi-instrumentalist, James often performs as a one-man band, using loops and effects to accompany himself. On record, he can go from an airy ukulele song to a full-bore pop production, the latter exemplified by his tracks "GoGoGoGo" and his #1 hit on local radio charts, "Hawaiian Girls." In Japan, he found similar success with another single, "Love Me." He's won multiple awards, including 2013's People's Choice Asia Best New International Male Performer.
Listen to "GoGoGoGo" below, and check out Jeff James on NextNext. Help artists helping others.
About NextNext:
Designed to connect a community of artists and music fans around a positive message of helping important causes, NextNext Hawaii invites those artists to sign up and select a charity to sponsor. Fans, who can get votes by visiting any participating McDonald's location in Hawaii, can listen to the artists on the free NextNext app, create playlists, and vote for favorites. With each vote, the artist's selected charity gets a donation. At the end, the top-ranked artists will be awarded cash prizes, including a grand prize of $5,000 and the opportunity to have music released via Amazing Records.