NextNext Hawaii Featured Artist: LIV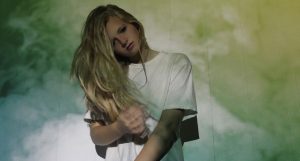 We at OurStage and Amazing Media are excited to be partnering with McDonald's of Hawaii for the NextNext search for the Sounds That Spark Change. We are bringing together Hawaiian artists with music fans and local charities in an effort to spread great music and help worthy causes. Here, we'll highlight some of the artists who have already signed up to participate, so that fans around the world get a chance to hear this great new music. You can learn more about the competition below.
Let's talk for a moment about LIV. She's a singer/songwriter/guitarist from Oahu who, at just 15 years old is already in a second phase of her musical journey. Having begun as a guitar player in a couple of punk bands, LIV has evolved into a captivating solo artist. She draws from her guitar background to create instrumental motifs upon which she builds radio-ready chill wave pop.
LIV says the song she has entered into the NextNext Hawaii competition, "Sink Or Swim," started as little more than a quick lyrical idea she recorded on her phone. To hear what that idea blossomed into is to once again marvel at the young artist's maturity and inventiveness.
Just at the beginning of her career, LIV is pumping out singles now, and released this video for her song "Chasing Dreams" earlier this year. It's another should-be hit and we look forward to hearing more and more from her. Check out LIV on NextNext.com.
About NextNext:
Designed to connect a community of artists and music fans around a positive message of helping important causes, NextNext Hawaii invites those artists to sign up and select a charity to sponsor. Fans, who can get votes by visiting any participating McDonald's location in Hawaii, can listen to the artists on the free NextNext app, create playlists, and vote for favorites. With each vote, the artist's selected charity gets a donation. At the end, the top-ranked artists will be awarded cash prizes, including a grand prize of $5,000 and the opportunity to have music released via Amazing Records.