NextNext Hawaii Featured Artist: Kings Of Spade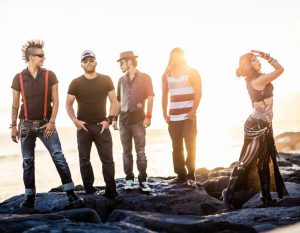 We at OurStage and Amazing Media are excited to be partnering with McDonald's of Hawaii for the NextNext search for the Sounds That Spark Change. We are bringing together Hawaiian artists with music fans and local charities in an effort to spread great music and help worthy causes. Here, we'll highlight some of the artists who have already signed up to participate, so that fans around the world get a chance to hear this great new music. You can learn more about the competition below.
Though we have a lot of great solo artists participating in the NextNext Hawaii challenge, there's just something about a band that not only sounds great together, but has worked and grown together for the better part of a decade. Honolulu's Kings Of Spade are one of those groups with a special chemistry that defies the typically short life span of a band and results in a wholly original sound.
The band is beloved by fans for their high energy club-banging funk, but it's their foundational soul influences that set KOS apart. Frontwoman Kasi Nunes frequently cites Aretha Franklin as a major source of inspiration, and when she sings you can hear her reaching deep and coloring her phrasing with the kind of nuance perfected by the Queen of Soul – the kind of you just don't hear from many of KOS' blues/funk contemporaries.
Kings of Spade's self-titled LP was recorded in Nashville with Grammy-winning producer Dave Cobb (Rival Sons, Sturgill Simpson, Jason Isbell). Having won "Best Local Rock Band" in the 2014 and 2015 Honolulu Pulse Awards, they've spent the last few years expanding their fan base by touring the US mainland multiple times. Listen below, and check out Kings Of Spade on NextNext.com.
About NextNext:
Designed to connect a community of artists and music fans around a positive message of helping important causes, NextNext Hawaii invites those artists to sign up and select a charity to sponsor. Fans, who can get votes by visiting any participating McDonald's location in Hawaii, can listen to the artists on the free NextNext app, create playlists, and vote for favorites. With each vote, the artist's selected charity gets a donation. At the end, the top-ranked artists will be awarded cash prizes, including a grand prize of $5,000 and the opportunity to have music released via Amazing Records.