New Album Teaser From Kat Robichaud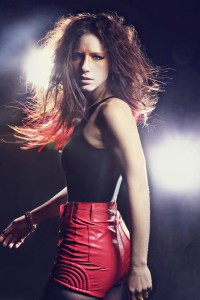 The flashy, glammy, rocking powerhouse known as Kat Robichaud has spent the last couple of years focused on her live production of the Misfit Cabaret, "a splendiferous variety show centered around magical music with a rotating cast of eccentric performers." From the clips we've seen, it's quite a spectacle. So we cannot wait to see how this endeavor informs her brand new album, for which she recently dropped a teaser. The short video is primarily a trailer for the ever-evolving Cabaret performances, but the music is a clip from the upcoming album, and the projects are intrinsically intertwined. For each new Misfit Cabaret event, Robichaud has been writing a couple of new originals, and so we can expect to hear a lot of that music on June 2nd, when the album is released.
Follow @katrowbeeshow on Twitter.
More:
Song For David Bowie
Video: "Why Do You Love Me Now" By Kat Robichaud
Viv And The Revival: "Faded"