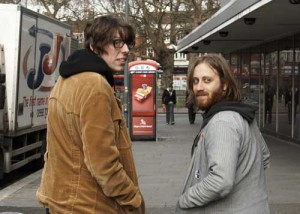 Love to hear about a band that stays true to their roots. In the case of Ohio's The Black Keys, they'll be giving back to their community by raising funds for the West Akron Baseball League, with all profits going toward new uniforms, upgrading equipment, replacing benches and backstops, and subsidizing registration fees. And in the same spirit of good will, old equipment will be donated to other local leagues.
"Dan [Auerbach] and I played little league when we were kids before we got into music, it was a really positive hobby that kept us from sitting around watching TV," said drummer Patrick Carney. "We are proud to be sponsoring W.A.B.L to hopefully offset some of the leagues expenses and get more kids outside having fun."
The shirts, which are designed by Carney's brother Michael, features the league's logo on the front, along with "The Black Keys" and the number 02 on the back. You can grab your own shirt and support the West Akron Baseball League here.
More like this:
The Black Keys In A Pizza Hut Commercial? Not On Their Watch
Black Keys Apologize to Nickelback (Sort Of)
The 2014 Grammys Were Long: Best Performances And Winners List