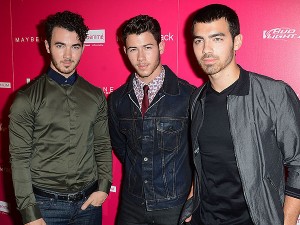 After nearly a month of gossip and conflicting reports, The Jonas Brothers have decided their time as a group has come to an end.
Speaking exclusively to People Magazine, all three Jonas Brothers collectively broke their silence to announce their plans to part ways. The group says the decision came after Nick Jonas confronted his brothers Joe and Kevin about his concerns for their future musical endeavors.
"I was feeling kind of trapped," he said. "I needed to share my heart with my brothers."
The brothers listened to what their sibling had to say, discussed possible career moves amongst themselves, and ultimately decided the best play was to call it a day.
"It's really hard to say 'forever,'" Nick explained. "We're closing a chapter, for sure."
"It was a unanimous decision," added Joe.
The Jonas Brothers burst onto the music scene in 2005 with the Disney Channel original movie Camp Rock. Since then, the trio have recorded multiple platinum-selling albums, toured the world, and achieved pretty much every music-related goal one could hope to accomplish in between.
Surprisingly, the conversation with People did not mention the fate of the band's long-awaited album, V. Singles have been released, but no release date for the full project was ever announced. Will the record now be shelved forever? We'll keep our eye out for updates and let you know as soon as more information becomes available.