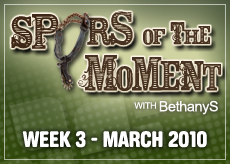 "Spurs of the Moment" is your up-to-date source for all happenings in the country music community. Make sure to check in bi-weekly to see just what's going on with your favorite country singers and stars!
It's official, country music is taking over every aspect of pop culture. On March 7th at the Academy Awards, the Best Actor Oscar went to Jeff Bridges for his role as downtrodden country-western legend Bad Blake in the film Crazy Heart. The movie garnered rave reviews upon its release, and was said to be one of the most honest portrayals of country music's fading stars. Also at the Academy Awards was Tim McGraw whose film, The Blind Side, was nominated for Best Picture. Although the film didn't win, Tim's costar Sandra Bullock took home the Best Actress award for her work in the film.
The day before the Oscars, March 6th, was just a typical Saturday night for Brad Paisley. That is until he toppled down a ramp on stage during his concert. Brad was taken to the hospital, and to his fans' great relief he was only badly bruised. After watching the video, his lack of serious injuries seems like a miracle since it appears to be quite the nasty fall. Thankfully, Brad's back in business, and was able to shoot a new video for us on March 9th.
The upcoming summer tour season is getting better. Keith Urban, The Dixie Chicks (yes, all three of them) and The Eagles are officially hitting the road. TOGETHER.  The tour starts June 8th and includes 7 scheduled dates,  4 of which have Urban on the bill. Surely, this tour will help fill the void left by Kenny "Extravagant Summer Tour King" Chesney.
Remember to keep checking in with "Spurs of the Moment" for the latest country music news!