Earlier this year we reported that Dispatch was back at it after a nearly 12 year hiatus. With the studio album now complete and the tour about to kick into high gear, we caught up with Chad Stokes Urmston on reuniting Dispatch and what to expect from their most extensive album yet. Make sure to pre-order Circles Around The Sun, out August 21st, from the bands website.
OS: So Circles Around The Sun is the first full-length studio effort in over a decade, but you also released the Dispatch EP last year in support of your first widespread tour since calling it quits in 2004. Is it safe to assume Dispatch is back?
CSU: I think this kind of built on when we decided to get back together last summer, we decided not to just play one or two shows but to do a little tour. Then, when we decided to do a tour, we thought "wouldn't it be great to play some new songs?" And we all write, so we knew that the songs were out there. We did the EP, and still had some songs left over and that turned into the album. So I think we'll ride this album out and take some more time off.
OS: You guys have never really settled into one style, the evolution from Silent Steeples to Bang Bang alone can prove that. This album continues your forward progression but still sounds like a Dispatch record. What do you attribute your growth as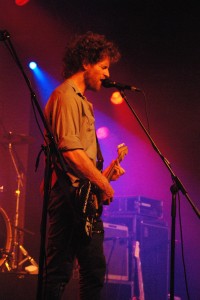 musicians/songwriters to?
CSU: I think in the beginning we were really just learning our instruments. We all played guitar, but Brad and Pete; Pete switched over to bass and Brad switched over to drums. It wasn't until Four Day Trials or Who Are We Living For?, our 3rd and 4th albums, where we felt like we were at our full power trio abilities. So I think you can account the evolution of the sound to that. But we all come to the table with different influences so it really depends on the timing of the recording and what we're into at the moment. As we grow up and get exposed to different things… it's really easy not to get locked into one sound when there's three of us writing.
OS: And how do you still always sound like Dispatch?
CSU: There's always been some simplicity to our songs… but our hallmark has really been our harmonies. We can almost do anything, and as long as we're singing over it it'll sound Dispatch-y.