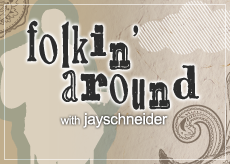 If you liked our folk artist pick Meg Hutchinson a few weeks ago, you'll be excited to hear that our choice this week is Antje Duvekot. These two artists have unique careers and sounds, and they share a few things in common. Both are a strong songwriting presence in the greater Boston area (winning several individual songwriting contests/mentions). They are also prominent members of the Boston-based, songwriting all-star cast that makes up Winterbloom.
Duvekot's music merges the folk and country aesthetic with indie and singer/songwriter vocals and lyrics. In fact, all the angst, poetry and longing in Duvekot's lyrics easily accent the lofty melodies with which she sings them. When are you going to come for me, Lord? is the opening line of the chorus in her song Pearls. Juxtaposed with the somewhat dark lyrics that riddle the verses, this line is sung with an appropriately memorable tune. The request sung so many times in the song, seems to be answered by the end with catchy, satisfying progressions and smooth, natural accompaniment. Check it out:
With several songwriting and folk awards (including regional artist awards and the grand prize in the John Lennon Songwriting Contest) under her belt, Duvekot obviously has a talent for writing and the performance chops to go with it. And thanks to frequent performances on the festival circuit, domestically at the Mountain Stage festival and abroad at The Celtic Connections Festival in Scotland and the Tonder Festival in Denmark,  she's shared the stage with acts like Patti Griffin, Lyle Lovett and the Indigo girls. Her song Merry Go Round was even featured on a 2008 Bank of America commercial which aired during the Super Bowl. Take a listen and get your dose of tasteful arrangements and thoughtful lyrics.