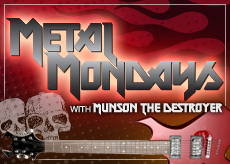 For those who have followed the OurStage blog for awhile, you may remember my Resurgence of Thrash post back in May. Well, here comes Part Two. Thrash has been on the upswing since this last post, with thrash legends writing albums and planning tours and baby bands popping up left and right. In the seven months since Resurgence of Thrash appeared, this trend has exploded in the Bay State (reminiscent of the 80s Bay Area). The thrash scene is just the latest addition to the collection of microcosms found around the Bay State, including the metalcore, hardcore and punk scenes.
Being a part of the metal scene in Massachusetts means that I heard the murmurs and saw the stirring of the mighty beast that is thrash metal among the masses. In dingy basements, tiny bars and every venue imaginable, thrash bands have been rocking kids' faces off all over Boston, and are finally getting recognition for it (Boston thrash/death metal band Revocation recently signed to Relapse Records). Local metal labels such as Hold True Recordings are looking to sign more thrash-centric bands such as Razormaze, while bands like Lich King, Led to the Grave and Ramming Speed are on the rise.
With the immensely popular metalcore scene from the early 2000s waning (bands like Killswitch Engage, All That Remains, Shadows Fall, etc.) and the hardcore/punk scenes as underground as ever, thrash is poised and ready to take the crown. I hate to count my chickens before they hatch, but there's definitely something brewing here.