Sometimes it's tough to gauge a band's success. You can count GRAMMY nominations, charting singles or perhaps the size of venue that a band performs at during their tours. In the case of Counting Crows, the most striking statistics are their album sales and RIAA certifications. The band's debut full-length, August and Everything After sold over 7 million copies. Almost every album the band has released has been certified at least Gold, and in most cases Platinum. However, if you asked lead singer Adam Duritz, if he thought August was their best effort, he would probably say "no." That's exactly what we did. Read on to find out why, what his favorite album really is, and why the band chose to perform alongside Augustana and rapper NOTAR, rather than the headline their own tour, during this past summer's Traveling Circus Tour.
OS: You guys have a really big lineup, obviously…how do you make sure that everyone contributes effectively to a song when you go in to put it together?
AD: The first thing about our band that we drill into everyone is that it's far more important to listen as musicians than it is to play. I think that playing comes naturally, if you're good enough. You need to hear what's going on around you. When we were making our first record, we'd stand around and just play for hours. None of us really come particularly from this background at all, but it's kind of like jazz, you know, you need to interact with the other guys.  And so then we'll stop and break everything down and we'll work on the songs with just acoustic guitars or just the three guitars and we'll sing together. My vocals are almost always done before we practice them. And on stage, it's kind of the same thing, you just really have to listen to everybody else. Especially now, with the Traveling Circus Tour, there are 17, 18 guys on stage. It can be a mess.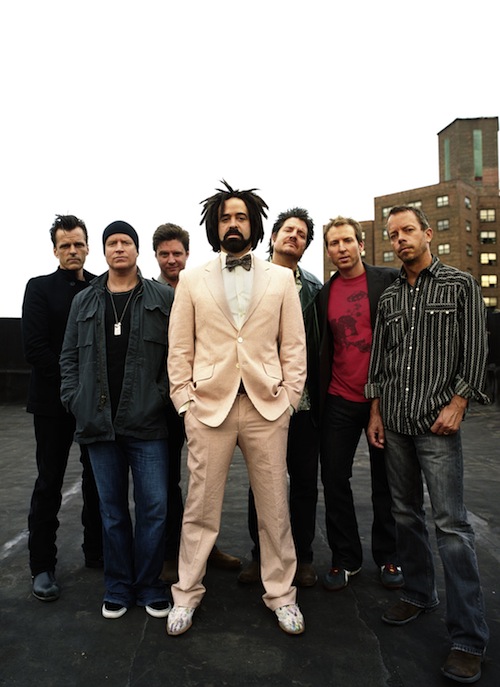 OS: Your breakout album August and Everything After was a really early release for the band, and you've said that it was recorded before the band really had a feel for each other. Was there a point where you felt that the band really did come into its own?
AD: I think we kind of come into our own over and over again. With the first record, we really hadn't been together very long. As a result, it was brutal to make, but we did spend that time making it…We stripped everybody's effects off the guitars. We took half the drums off our drummer. Everybody was forced to play much simpler, and we stood around in circles, playing quietly until we got things. And the next album, Ben had joined the band on drums and Dan had started electric guitar right after we finished August, so we had a year to be on the road all together. Ben came much more from like a punk, sort of indie background, which is where the rest of us came from, our drummer didn't. So by that time, we could play the kind of songs I really wanted to play that we couldn't do on August and Everything After"like "Catapult" and "Angels of the Silences" and "Have You Seen Me Lately?" That was also a big part of my background, that sort of came from college radio, it came from my band The Himalayans"a much more guitar band, I'd grown up on late '70s punk music and could play a lot more of that stuff, like those loud songs on Recovering the Satellites. I thought we came into our own a different way there, it was a much more raw, emotional record. In the third album, we really wanted to experiment with what it's like to just be in the studio and do all the quirky things you can do with drum loops and messing around in a recording studio. Right now we're learning how to play with 17 guys for the last couple years.
OS: So it's kind of like an evolution"re-defining yourself with each release?
AD:  With each show. It's just a constant thing you go through. I think the releases are a better way to market because they're how everyone sees it, but within the band, it's a daily thing. It's almost that Dylan line, "he not busy being born is busy dying."
OS: Do you put more weight or more stock into your live show then, than a release? Or are they just different things?
AD: I think the simplest way to put it is that there are really three parts to being a musician. I think you have to write songs"and that's very difficult and requires this whole willingness to open your soul up to things. Then you have to make records and crystallize those songs into something. And then you've got to play them live, which is where you take your daily life and you filter your songs through it. I think they're all equally important, equally satisfying, equally horrible, and equally wonderful. Especially to a band like us, I wouldn't put one part over the other. You can't. Without any of the three parts, the whole thing falls apart.
OS: Do you have a release that you feel was most successful?
AD: We were trying to do so many different things on each record…and I felt like we completely succeeded in every way on them except the first one, maybe? People don't understand what I mean when I say I'm not trying to badmouth that first album, because people mistake it because they think I just played it a lot. I could play "Mr. Jones" every day for the rest of my life and never get tired of playing it. That song is a fucking great song. "Round Here" is an even better song. The only failure on that album is me. It's just that I wasn't a good enough singer yet. To me, singing is all about baring yourself, opening up your inside and letting someone see it…with a beat. Two of the songs""Rain King" and "Mr. Jones""I know I did sixty-plus takes on those two songs. I could not sing them.  Those songs just kind of jog, they're not mid-tempo songs but they kind of have to rock and roll at a kind of relaxed pace. But it's really hard to find that middle ground between rocking out and relaxing. That's why soul singing is so hard. People think it's this big, overdone thing, but it's a lot about restraint. I look back on some of the songs now that I thought I had at the time and go, "shit." I fucked up three songs, I think. On those songs, I feel like I just wrote it better than I sang it. But I was such a new singer then. I wasn't quite good enough.
I think, in a way,  the one that satisfies me the most is the second album, Recovering The Satellites, because that's an album where we made a huge leap towards something we weren't able to do on the first album. We played songs like "Goodnight Elisabeth," this really beautiful, long, sort of country rock song. We had "Long December," which was written and recorded in under 24 hours"we had single takes, there are no overdubs on it at all. Then we had songs like "Catapult," "Angels of the Silences," "Have You Seen Me Lately?" "I'm Not Sleeping," where they're like, either vicious punk songs or they're huge departures with strings and all kinds of other weird stuff. We really strove to do things that were outside our comfort zone. It's an album of a really great breadth. I got cut a lot of slack. I did have a nervous breakdown on the road, I did lose my fucking mind, and I had a really fucking hard time dealing with what happened to us. So I decided to write about it, and we played it with as much passion and conviction as we've ever done anything. I'm proud of all of our records, they're exactly how I wanted them to be, but Satellites really went out there. I love the way the band plays with just, utter abandon on it. I think I love that record the most. Also because we could have completely fallen apart with that first album and not have been able to make that record. Also, not just us, but for the record company, because when you make August and Everything After and sell so many copies, they do not want you to go find The Pixies' producer to make your second album.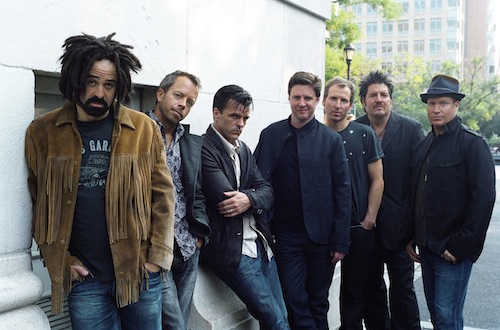 OS: Let's talk about the Traveling Circus you did this year. Why did you go with a more collaborative effort rather than opener/headliner?
AD: I've always thought that format sucks.There was a concert a long time ago at the Fillmore: It was Miles Davis, The Stones and The Dead, I think. It must have been quite the trio of bands, and they're all very different. People would see them too, because they were really cool bands. Now-a-days there are sometimes outrageously good bands onstage and no one is there. And even co-headliners, all the fans might not be interested. It all seems very unsatisfying to me, especially because all the bands are goods.  I had done the collaborative thing with Augustana before. At first it was the first three hours with all three bands. We started playing with Augustana, flowing in and out of each other. Audiences were listened to all different kinds of music. So, you didn't miss the great opening bands, because they were all in the middle of the show. This year, we got Augustana again and now the rapper NOTAR. NOTAR can spit too man…I watched a Counting Crows crowd fall in love with hip hop. I can't tell you what it's like to tilt your head back and sing in 12 part harmony with 19 other guys. It's about just loving music. I think it's a real groundbreaking show. We tried something new. We sold out some places, but not others. It's sad, but I don't think we'll ever be able to do it again.
Coming up, we'll have the Underwater Sunshine Web site dedicated to indie bands. The indie web is really where new rock is. If we can sell music at a price that music buyers won't feel like they're getting ripped off, then hopefully they'll want to buy it. We'll put it right up there with the Counting Crows. I want this Web site to be just like a home entertainment center"read magazines and find stuff. There are less ways to find music now, but there isn't less music.  No one is talking about indie music anymore, except for Web sites like yours of course. You guys are definitely doing the type of thing I want to support with Underwater Sunshine. I'm still fascinated with what we're doing. It still matters the world to me.
If you missed the Traveling Circus, keep an eye out for the new indie Web site that Counting Crows are developing, and check out which indie bands they think you should know about.