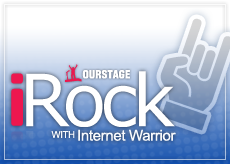 Ever since the early 2000s, the rock genre has suffered from a mid-life crisis. Sure, rock has produced a slew of sub genres in its lifetime but many wear the masks of hip hop, pop,and electronica. What happened to The Verve? Oasis? Ride? The 1980s Stone Roses? You know, the real rock 'n' roll that not only captured listeners ears but their hearts. Did they all break up to form a supergroup? No, but you actually may think this is what you are hearing when you listen to this week's featured iRock artist.
While the rock genre is in disarray and looking for its next savior, a group out of New York City has emerged out of the classic rock 'n' roll ashes to breath some fresh air into the world of 808's, autotune and Grey Goose-inspired lyrics.Five members strong The GoStation embrace the natural rock sound and held on tight throughout the musical storm that hit the industry.  Their debut EP, Quiet Zone, received backing from various radio stations including Seattle's KEXP, NYC's 92.2 K-Rock and Q104.3 as well as XM/Sirius satellite radio. Building on this support, the band hit the road and performed at the CMJ, SXSW and NEMO festivals as well as opened for national artists like The Dears, Young Love, White Rabbits and The Bravery.  After making their mark on the local market and knocking on the door of the national scene, The GoStation recorded and released their year-in-the-making full-length album, Passion Before Function. They returned to Bill Racine's (Rogue Wave, The Flaming Lips, Phantom Planet) studio to bring this album to life.
If you're looking for infectious, back-to-the-roots rock, then you've come to the right place. I couldn't say it better than the band itself, just press play, and let the music do the rest.