With summer right around the corner, we can't help but be totally stoked for Warped Tour. In case you haven't heard, we'll be sponsoring our own stage for twenty-two dates and bringing twenty-three artists out to perform on it. Twenty-two acts will snag a performance at their local tour stop, and one lucky artist will get to perform on every date (tour bus included). In addition, there are a handful of other OurStage artists already booked to play various dates of the tour. We decided to catch up with them to get the scoop on their summer plans.
Chicago natives I Fight Dragons are favorites in the modern pop rock scene and will be playing every single date of Warped Tour 2012. With fun and fresh songwriting chops, dedicated fans and a kickass live show, we think it's safe to say that this band is poised to be the next big breakout act. We caught up with IFD frontman Brian Mazzaferri to talk about video games, rock shows and why he's looking forward to a very Warped summer.
OS: You describe your sound as "Chiptune-Pop-Rock." Can you explain what that is and how you incorporate chiptune elements into your music?
BM: Sure, well Chiptune is basically this:  new music created using "obsolete" video game soundcards.  It ends up sounding like it was made on an old Nintendo or Game Boy, because it often was.  In our band, we integrate those sounds with a more traditional four-piece rock band (drums, bass, guitar, vocals)…to create an unholy beast of sonic majesty.
OS: You're from the local scene in Chicago, which is represented in modern rock by bands like Fall Out Boy and The Academy Is… .Were there any local acts that you guys really looked up to growing up?
BM: I'd say Wilco is the favored hometown hero amongst our bandmates.  I really enjoy Fall Out Boy as well actually, but I went to high school with Patrick Stump so it's hard to say I looked up to him growing up, I definitely love his songwriting though.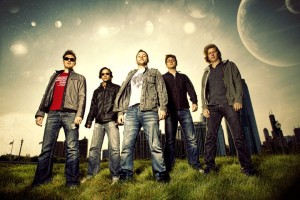 OS: How would you describe an I Fight Dragons show to someone who hasn't seen you play live yet?
BM: An I Fight Dragons show is a bit like taking robot-powered squirrels, loading them with Sonic C4 Explosives and sending them flying (did I mention they're flying squirrels?) into a house of guitars (that's like a house of cards but with guitars) and then channeling the resulting explosion through a speech-to-text converter and back again. Also, there's rock songs and video game controllers.
OS: Your fans have their own community called The Advance Guard. Can you tell us about that?
BM: The Advance Guard is part street team, part social network and part martial art discipline.  Mostly it's just folks from around the world who like IFD and do quests to help promote us and connect with each other.  We also do monthly UStreams and other fun stuff with them, like creating a Minecraft town and other very very nerdy stuff.
OS: You guys are releasing a 3D video for "Save World Get Girl." Tell us about the making of that video and what you have planned for its release.
BM: When Nintendo calls you up and says, "We want to fly you to LA next week to shoot a music video on a space ship," the obvious answer is "GSHLFHKDHF" and that was basically our response. The video is basically a trailer for an epic low-budget '60s sci-fi TV series (think like an even cheaper version of the original Battlestar Gallactica), starring us.  We fly the ship, we fight monsters, we save green alien babes.  Packy is some sort of wolf-type alien. Suffice it to say it's EPIC. The video itself is coming out later this month exclusively on the Nintendo 3DS, and then we'll release it ourselves a bit later.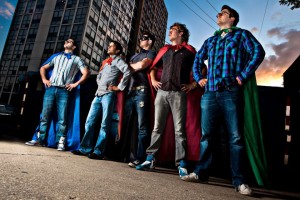 OS: IFD are playing the entire run of the Warped Tour this year. How did you get that amazing opportunity?
BM: The timing was finally right for us this year since our first full-length album is out.  Beyond that our booking agent Gabe is a badass and Kevin Lyman is a kickass dude.  And I'd like to remind him we're keeping a close eye on his voodoo doll.
OS: What are you most excited for about your run on Warped Tour?
BM: We just love playing for people, and it's been a long time since we've done a full national tour, so most of us are just ridiculously psyched to get back out on the road, plus Warped is such a great opportunity to get heard by so many new people. Also, I hear there's maybe going to be a Zombie Stripper band, but maybe I just made that up.  If there is, then I'd like to change my answer to that.
OS: Who are you most excited to see play live, and which Warped Tour band would you most want to hang out with?
BM: Barring the last answer about the Zombie Stripper band, I'd say Rise Against. I've seen them live before but they're so damn awesome, also I've been looking at the list and there's lots of bands I haven't heard of before that I'm excited to check out live.