Norway's Shot At Dawn have been shredding up and down the OurStage metal charts for a handful of years now. From the release of their 2008 EP Pre Bellum to 2010's Seize The Night EP and now White Trash Metal Brigade, Shot At Dawn have stayed true to the things that helped them become a band in the first place: high fives and good times. Don't believe them? Well, the band's "about" section on Facebook simply reads "Stage dives and high fives! We rule!" That enough evidence for you?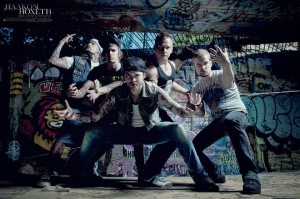 If you've been following Metal Monday for a while, then you've likely heard a track or two from Shot At Dawn, so you may have a pretty good idea of what you can expect to hear on White Trash Metal Brigade. For everyone else, you're in for a treat. Boiled down to its most simple properties, the new album that is just plain fun. While some of the lyrical themes are of serious nature, most of the musical content is all about getting down and dirty"moshing, headbanging, breakdowns, riffs, solos, gang vocals, etc. Par for the Shot At Dawn course. What else would you expect from a group that's friends with Optimus Prime and a dancing He-Man?
Most often pigeonholed into the deathcore category, Shot At Dawn are a great example of how not to conform to the labels attached to them. Taking cues from seemingly every important metal style from the last couple decades, Shot At Dawn aren't shy about playing to their influences, and it works in their favor. Instead of filling an album with tracks that all sound more or less the same, they've opted for 11 four-minute songs that each, while revolving around heavy riffage, have a pretty distinct feel to them. Jonathan Kjeldsen vocals and the dual axe-attack of Christopher Marchand and í…ge "Ogee" Trí¸ite really tie things together nicely, topped off by the dynamic grooves of Espen Hagí¥s (bass) and Aki Johannes Viitala (drums).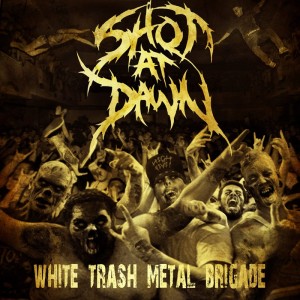 Don't look to Shot At Dawn to deliver you a new, groundbreaking musical adventure"they're not going to give you that. What you should be looking to Shot At Dawn for, however, is a solid, fun album that can suit just about any metalhead out there. Whether you like thrash-tastic headbanging sessions, yelling along to gang vocals, harmonized guitar licks, br00tal breakdowns, or high fives it doesn't really matter"Shot At Dawn will bring it all and party with you until you can't party any more.
You can check out White Trash Metal Brigade at just about any media outlet where you'd normally find music, for example Spotify or iTunes. You can buy the new album and all sorts of other stuff at Shot At Dawn's Bigcartel Store.
As Shot At Dawn say, "This is the time! Shot At Dawn in your face! All over it! Always!"