It's something that I didn't think I'd be doing again is the first comment out of Annie Haslam's mouth about the revitalization of Renaissance, the legendary British prog-rock band she led to fame in the ˜70s. On such classically tinged art-rock milestones as Ashes Are Burning, Turn of the Cards, and Scheherazade & Other Stories, Haslam's crystalline vocals blended with Michael Dunford's deft acoustic guitar work and John Tout's vivid keyboard flourishes on epic tracks brimming with invention and energy in equal amounts. Renaissance was a leading light on the ˜70s progressive rock scene, but since the ˜80s, their live activities have been sporadic, and the 2001 release Tuscany has been their only studio album since 1983's Time-Line.
I kind of wound down my solo singing career in about 2002, says the Bolton-born songbird, who now makes her home in Bucks County, Pa., and started painting, which is my other love, just as much as singing. I've been painting nonstop since 2002 now. So I didn't really have any interest in going back into music, I liked the fact that it was just me, and not a lot of other personalities to deal with. Then Michael Dunford contacted me in 2008, and before he opened his mouth, I just knew. He said, ˜Annie¦' I said, ˜No.' [Laughs] And that's basically how it started up again.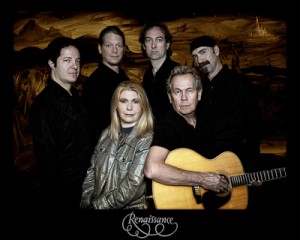 A revamped Renaissance ended up touring in 2009-'10, playing their classic cuts for grateful fans. Soon, some new work found its way into the set list. We added a new song Michael and I had written together called ˜The Mystic & The Muse,' expains Haslam, We don't ever remember having a standing ovation for a brand new song, which we had every time we played it, so that was very encouraging for our future writing. Before long, Renaissance was embarking on two equally ambitious projects"staging a new tour to perform Turn of the Cards and Scheherazade & Other Stories in their entirety, and putting together their first new album since 2001.
Turn of the Cards was really one of our most popular albums, says Haslam of the full-album shows they started doing in 2011, with ˜Mother Russia' and ˜Running Hard' on it, and Scheherazade we felt was really a huge album"when Michael and I decided to do that, we were talking about it and we both thought, ˜My gosh, this is a huge piece of work to give to the musicians to do.' It was huge when we did it [originally]. Actually it was probably bigger [to undertake] in the ˜70s, because we didn't have the technology. They pulled it off though, it was brilliant. I love that piece so much, ˜Scheherazade' in particular. When I'm onstage I get so into the music that I just barely remember to come in with the tambourine and come to the front of the stage. There's a lot of music in it so I kind of step back, and I just get lost in it.
One of the essential elements of both albums is the flowing imagery of the band's non-performing lyricist, Betty Thatcher, a British poet/songwriter who was sort of the Elizabeth Barrett Browning of the prog-rock set. I agree, says Haslam, I think that she channeled, that those things came from somewhere else, another lifetime, whatever. Very special, very unusual. Her words were incredible. What she did with me was, she used to ask me about my life and things that were happening; she did several songs that were about what I told her, about things that were going on with me. Unfortunately, Thatcher passed away in August of 2011, leaving Haslam to handle the lyrics for the band's new album on her own. On this album, I was a little nervous¦I said to Michael, ˜I can't write like Betty.' But a couple of the pieces, she's sitting round my shoulders, she's been with me on a couple of these, I really feel it. I think being a poet sets you apart from somebody who's just writing songs. She definitely had something extra, from ˜up there,' I think.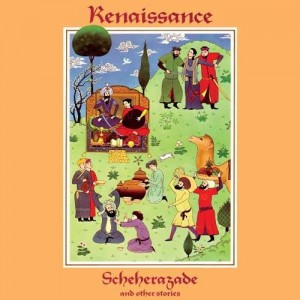 The new Renaissance album, which will be called Grandine il Vento, is also the band's first since the old-school music industry really began collapsing in on itself in the post-MP3 era. To compensate, they found a decidedly new-world way to subsidize their recording: a Kickstarter online fundraising campaign, which proved wildly successful. What is a record deal these days? Haslam wonders aloud. Everything is so completely different. It was quite a lot of work, but fantastic to find out that there were all these people that wanted to help. It was because of them that we're here now with this fantastic album. It's the only way really. There's hardly any shops left that sell CDs. Bootlegs are all over the place, aren't they? And if you don't come up with something then people will buy the bootlegs because they're just hungry for new product. It really is a fantastic way of doing things, and supporting the people that you love and giving back to the people that you feel have given you so much as well.
Fans will still have to wait a bit for Grandine il Vento, but in the meantime, the DVD and CD versions of the live collection Tour 2011 are set for an August 14 release, and will allow all those who missed the band's Scheherazade and Turn of the Cards performances to get caught up. Of course, Renaissance will also be playing a string of North American dates throughout October that offer one more opportunity, though they'll be alternating the Cards/Scheherazade show with performances of their classic 1977 album, Novella. I'm hoping for it to be finished at the end of August, says Haslam of Grande il Vento. We're going to probably release it in January or February. We were thinking that if you had to compare it [to earlier albums] we would compare it to Turn of the Cards and Scheherazade"a lot of classical stuff, and three epics in it, one particular one which is all of our favorite, about Leonardo Da Vinci¦I think it's about 12 minutes long. Then we have another one that's about 20 minutes long. Very melodic and orchestral and unusual, I'm very excited. It's exceeded anything that we thought.
While some of the band's early-˜80s recordings shifted more towards an accessible, pop-friendly approach, Haslam and Dunford are feeling more inclined towards their prog-rock roots now. Michael and I just decided that we wanted it to be more orchestral, we wanted to please the fans from the past, but bring it into the future also. I can't wait to hear the reaction¦I hope it's good! [Laughs]