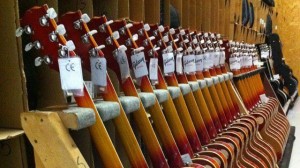 Prominent guitar maker Gibson will avoid federal prosecution by paying $350,000 in damages after admitting to possible violations of the Lacey Act.
Gibson had been the target of a Justice Department probe since 2009 for the suspected importation of illicit plant products. The guitar maker made use of ebony and rosewood imported from Madagascar and India, the origins of which brought on the scrutiny of the federal government.
The issue was not what kind of materials Gibson was using, but how they came to get them. The Lacey Act, written into law in 1900, was expanded in 2008 to ban the importation of products that had been illegally harvested and exported under another country's laws. While Gibson initially maintained that they acquired the wood for their instruments through legal means, the settlement for the case notes that an employee of the company learned of the extralegal sources from which the wood came from in 2008.
The investigation came to a head on August 24th of last year when federal agents, outfitted with bullet proof vests and automatic weapons, raided Gibson facilities in Nashville. While the guitar maker had previously maintained their innocence, the terms of the settlement state that, "Gibson has acknowledged that it failed to act on information that the Madagascar ebony it was purchasing may have violated laws intended to limit overharvesting and conserve valuable wood species from Madagascar," according to Ignacia S. Moreno, assistant attorney general for the Justice Department.
Gibson appears to get off easy with the deal. While the guitar manufacturer was forced to cease attempts to regain $261,000 worth of wood seized in the raid, they would likely have to spend more than $350,000 on legal fees if the case was brought to trial. Also, the company will continue to import the integral wood pieces from India as pre-made "fingerboard blanks," a move that was deemed legal by the U.S. government.
More like this: