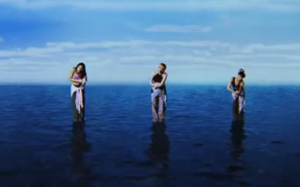 Yesterday, the surviving members of TLC held a press conference in New York City to announce plans to release new material in conjunction with a new biopic later this year. Music was previewed for the press, but nothing was released to the public (yet). The movie, however, is another story.
Shortly after the morning press conference let out, VH1 released the first trailer for CrazySexyCool, which tells the story of TLC's meteoric rise to fame and the tragedy that would eventually follow. You can view the preview below.
The actors cast for CrazySexyCool, including rapper Lil Mama as the fallen Lisa "Left Eye" Lopez, look like the spitting image of the popular trio. Do you agree? Comment below and let us know your thoughts on the new trailer.