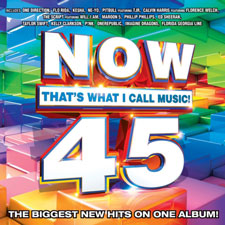 Everyone's favorite radio friendly compilation is back, and in a surprising twist of events the makers of Now That's What I Call Music have featured Black Veil Brides' "In The End" on their 45th installment. Appearing as a "Now What's Next" bonus track, Black Veil Brides finds a home among other bonus artists, Born Cages, Walk The Moon, and Capital Cities.
Although it's a shocker to see the band included on a track list that also features acts like Taylor Swift, Ke$ha, One Direction, and Ne-Yo, it's refreshing to see Now That's What I Call Music delving a bit more into the unknown. At least, the unknown of many regular Now listeners.
Check out the full track list after the jump, and keep an eye out for our upcoming interview with Black Veil Brides by following us on Twitter!
Track List
1. One Direction " Live While We're Young
2. Flo Rida " I Cry
3. KE$HA " Die Young
4. Ne-Yo " Let Me Love You (Until You Learn To Love Yourself)
5. Pitbull featuring TJR " Don't Stop The Party
6. Calvin Harris featuring Florence Welch " Sweet Nothing
7. The Script featuring will.i.am " Hall of Fame
8. Maroon 5 " Daylight
9. Phillip Phillips " Home
10. Ed Sheeran " The A Team
11. Taylor Swift -We Are Never Ever Getting Back Together
12. Kelly Clarkson " Catch My Breath
13. P!NK " Try
14. OneRepublic " Feel Again
15. Imagine Dragons " It's Time
16. Florida Georgia Line " Cruise
Bonus Tracks "Now What's Next"
17. Born Cages " Don't Look Back
18. Black Veil Brides " In The End
19. Walk The Moon " Anna Sun
20. Capital Cities " Safe and Sound
If you like Black Veil Brides check out OurStage artist Chamber Of Echoes.
More like this: