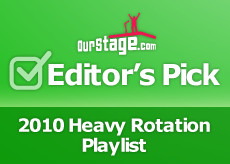 In 2010 hundreds of thousands of artists entered our monthly competitions, and millions of music lovers ranked their favorite tracks, positioning the Top 100 songs across thirty or more music charts every month. As a proud connoisseur of independent music, I've always made it a point to turn my family and friends on to new talents that "I" discover. With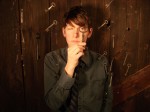 a talent pool as rich as the OurStage music charts, there is a never ending reservoir to tap into.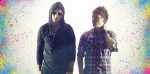 The "Lilith Local Talent Search" brought droves of female artists, "Your Next Record with Keith Urban" brought the country, Drake's "Thank Me Later" Competition represented hip hop and promotions with Bon Jovi, John Mayer, Train and the Goo Goo Dolls rallied legions of pop and rock artists. While there were many winners who earned career-enhancing opportunities, editorial coverage and cash money, the front-runners only scratched the surface of artists whose talent need to be heard.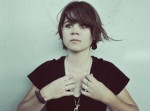 Press "Play" to hear songs that have been in heavy rotation throughout 2010 then continue reading to find out why these artists made this list.
–KB
Editor at Large and Director of Community & Content for OurStage.com
Heavy Rotation Artists:
Dirty Fuzz
.
Why?
Cuz these UK rockers kick-it old school. Think Muddy Waters meet Zepplin.
The Story of Sound
.
Why?
Hailing from Orange City, Florida, the quintet released their impressive debut EP earlier this year. Check out the killer breakdown in "The Razing".
Transmit Now
.
Why?
Provocative lyrics and you can dance to it.
Hotspur.
Why?
The cool kids at OurStage having been digging this DC based band for awhile, but this year the band won the New Music Seminar's "Artist on The Verge" award and the industry took notice.
Sleeperstar
.
Why?
Their epic Pop song "Disengage" ranked within OurStage's Top 10 throughout 2010, and helped secure their opening slot for John Mayer.
Go Periscope
.
Why?
Eighties inspired music for fist pumping at the disco. What's not to love?
SOFIA
.
Why?
Winners of the October's 5k Grand Prize. 'Nough said.
IYEOKA
.
Why?
Power-house vocals, infectious beats and uplifting lyrics raise the roof on "Millionaire".
Tierra Heart
.
Why?
Granddaughter of legendary jazz musician
Julius Hemphill
, this California natives gives Beyoncé a run for her money.
Chris Akinyemi
.
Why?
Digging the R&B vibe this newcomer embraces on his debut EP, released this past summer.
Shane Gambles
.
Why?
Country crooner Shane Gambles wets our taste for lovesick melodies on "Turn My Way".
Katie Cole
.
Why?
Cole's  radio-ready "Lost Inside A Moment" feels like the pop crossover for an already established country star.
Ashlee Hewitt
.
Why?
Love Taylor Swift but want to hear a song that isn't overexposed? "About A Boy" will be music to your ears.
Grant Craig
.
Why?
Enshrouded in mystery (read: one song uploaded to an otherwise empty profile on OurStage), Craig's "Good To Be Alive" is reminiscent of Pete Yorn and catchy as hell.
Chris Pureka
.
Why?
Because Pureka's latest release
How I Learned T
o
See In The Dark
is one of my favorite albums of the year. The internationally touring indie songstress has recently garnered press from
Billboard
and
The New York Times
.
Lindsay Mac
.
Why?
Mac strums the cello like a guitar and is evocative of PJ Harvey, Morphine and Liz Phair.
Lady Lamb the Beekeeper
.
Why?
Wide eyed, low-fi and wonderously quirky, Lady Lamb the Beekeeper (aka Aly Spaltro) has won the hearts of tastemakers including the Brooklyn Vegan.
The Organ Beats
.
Why?
Noelle LeBlanc was signed to a major and toured internationally with her band Damone but traded it in when she found her life at a crossroads and her brother available to get behind the drum kit.
Who's on your heavy rotation list for 2010? Share your picks in the "Comments".