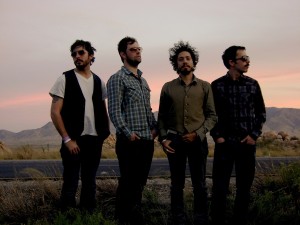 The Wandas rarely deliver exactly what you expect. When this writer happened upon their afternoon set at South By Southwest a couple of years ago, they were about three-quarters of the way through and had nearly reached the crashing crescendo that would find them spilling off the small roofdeck stage and into the enthusiastic crowd, instruments held aloft, strummed, banged, and fedback, for what seemed like the entire last song.
The band and I happened to be leaving the venue at the same time and when I told them how I'd enjoyed the set, they handed me their self-titled 12 LP. Based on their show, I looked forward to a hooky, high-octane garage rock romp. Yes, a romp, dammit. What I heard was indeed energetic rock and roll, but it was deeper, more thoughtful and introspective. It was the first new album I'd heard in a while that contained honest-to-god guitar work, in the vein of Television and Neil Young. It was psych and pop and jamming, all rolled into a concise musical language. I knew what they meant.
Now, a new album for 2013. New Interface (A Design with Friends for the Future) was released June 25th. And once again, the band has confounded expectations with appreciable growth. Having fully realized on their first album the often-elusive cohesion of being in a gritty yet cerebral rock band, The Wandas have added a diverse songwriting palette, highlighted by increasingly elaborate and deliberate production.